120 Tavern
Nestled along highway 120 in Marietta sits 120 Tavern and Music Hall - a full-service entertainment and event center. This casual sports bar features an All American menu, with meat straight from Little River Farms in Milton, GA. If you're looking for a fun night out with some friends and you're in the Marietta area, this is a must-visit! Go enjoy the best burgers and BBQ in Marietta!
Be the first to review.
Phone:(770) 509-3320
Address:1440 Roswell Rd.
Marietta, GA 30062
website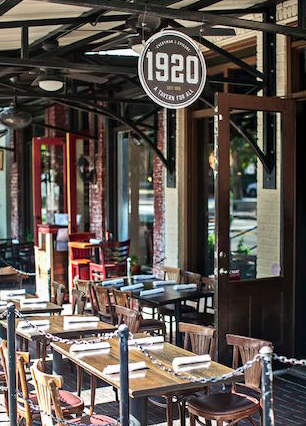 1920 Tavern
1920 Tavern features a global-inspired cuisine with contemporary interpretations of market-driven and locally sourced ingredients. Their rcuisine showcases an array of fresh greens, savory starters, market-fresh sea fare and enchanting entrees. The casual neighborhood eatery focuses on classic dishes with a modern twist and an impressive bar program boasting both classic and updated cocktails. Dark brown wood and leather banquettes contrast diamond-shaped white tiles beneath beautifully suspended light pendants that hang over the bar and dining areas. The newly constructed bar offers a comfortable space to watch the bartenders create your favorite beverages.


Be the first to review.
Phone:(770) 998-3114
Address:948 Canton St.
Atlanta, GA 30075
website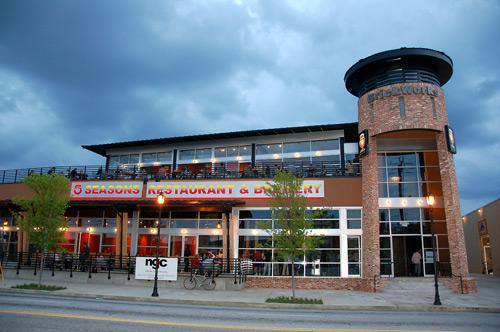 5 Seasons Brewing
This locally-owned and operated restaurant and brewery serves the Atlanta community with 3 locations across the city. Passionate about making great food and brewing great beer, 5 Seasons creates daily specials based on the fresh organic produce delivered from local farms. A true from-scratch restaurant, 5 Seasons embodies the philosophy that fresh food and fresh beer not only taste better but are better for customers, community and the environment. The menu and offerings change often, reflecting the seasons.
Be the first to review.
Phone:(404) 875-3232
Address:1 S Main St.
Alpharetta, GA 30009
website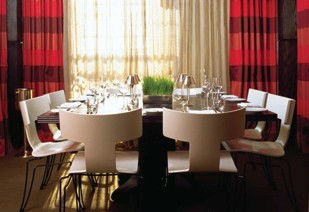 Bacchanalia
Bacchanalia is Atlanta's most celebrated restaurant featuring contemporary American cuisine from chef-owners Anne Quatrano and Clifford Harrison, whose culinary philosophy is creating light dishes built on strong flavors. Bacchanalia's seasonal menu relies entirely on organic ingredients, many sourced from Anne and Clifford's Summerland Farm, creating an utterly unique dining experience every time.
See all reviews.
Phone:(404) 365-0410
Address:1198 Howell Mill Rd. #100
Atlanta, GA 30318
website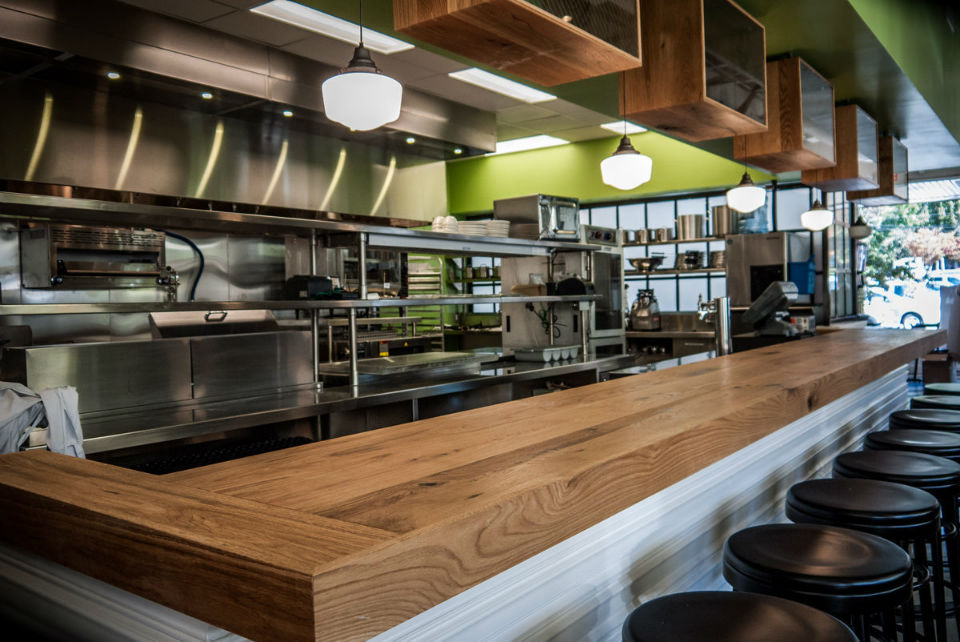 Bantam & Biddy
This feel-good family eatery in Ansley Mall fills the void between fast food and upscale restaurants, serving up quick, wholesome and farmer-friendly meals to families. Helmed by Shaun Doty, this casual chicken rotisserie could be described by handfuls of buzzwords: sustainable, eco-friendly, local, farm-to-table, free-range, gluten-free and organic. Beyond the buzzwords, though, is thoughtful, mindfully sourced Southern food. The chickens served are locally pastured-raised. Eggs are, of course, cage free, and the vegetables sides change daily and seasonally.
See all reviews.
Phone:(404) 907-3469
Address:1544 Piedmont Rd. Suite 301
Atlanta, GA 30324
website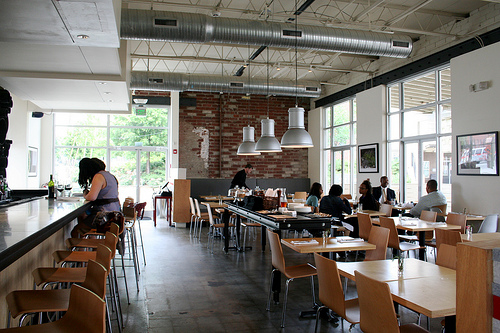 Bocado
Located in Atlanta's hip Westside, Bocado offers comtemporary, eclectic American cuisine on a rotating seasonal menu, playful and classic cocktails, and crafts beers and wine. The minimalist/warehouse atmosphere serves to highlight the honesty and fresness of the food. They are very passionate about serving the freshest local ingredients that they can get their hands on and proudly display their list of farms/partners on their website!
See all reviews.
Phone:(404) 815-1399
Address:877 Howell Mill Rd
Atlanta, GA 30318
website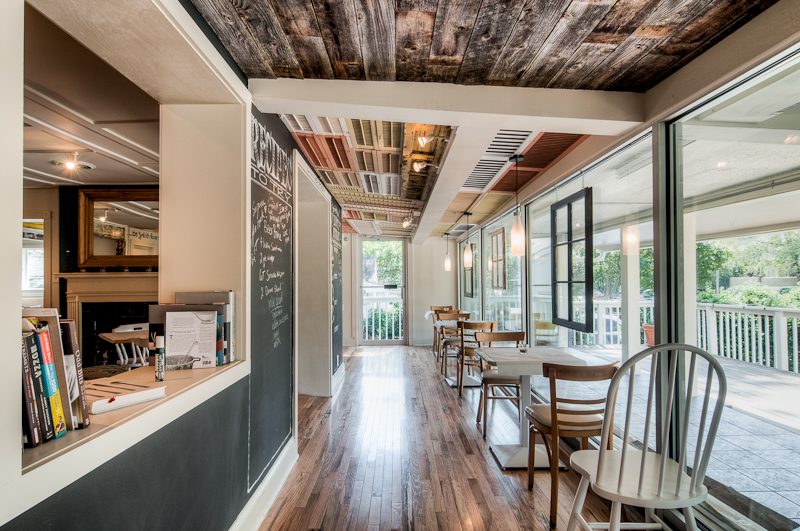 Buttermilk Kitchen
Buttermilk Kitchen is a breakfast and lunch concept from Chef Suzanne Vizethann. Buttermilk's mission is to nurture people through food by use of sustainable, local ingredients. A kitchen where most everything is made in-house from scratch, paying tribute to it's name, "Buttermilk" which refers to the liquid utilized after butter was churned; carrying out the philosophy of letting nothing go to waste.
Be the first to review.
Phone:(678) 732-3274
Address:4225 Roswell Rd
Atlanta, GA 30342
website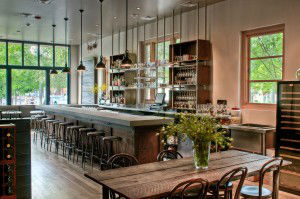 Cakes & Ale
Cakes & Ale means The Good Things in Life. Owners Billy & Kristin Allin modeled their restaurant to reflect their basic dining philosophy: cook unassuming food using the highest quality ingredients available and serve it in a comfortable and welcoming setting. The Allins have created a down-to-earth restaurant where they can express their creativity and passion for great food and drink and diners can enjoy the experience of a truly delicious meal. Produce comes from local farmers or the Allin's garden located a mile and a half away from the restaurant. The Bakery at Cakes & Ale, located next door, creates from-scratch baked goods using the same philosophy.
See all reviews.
Phone:(404) 377-7994
Address:155 Sycamore St.
Decatur, GA 30030
website
Canoe
Even if Canoe wasn't one of the most consistently exceptional restaurants in Atlanta, it would still draw crowds for its lovely location on the banks of the Chattahoochee River. The menu changes seasonally, with the onsite vegetable and herb garden and relationships with several area farms guaranteeing freshness. The fresh and seawater fish selections are always exceptional, a result of the "sea to table" practices. Other menu highlights include Bacon Raviolo, Springer Mountain Roasted Chicken and Popcorn Ice Cream Sundae with Homemade Cracker Jacks. Flooded in 2009, the interior has been totally gutted and renovated with an understated but classy combo of expansive windows and an arched rooftop shaped to look like...a canoe.
See all reviews.
Phone:(770) 432-2663
Address:4199 Paces Ferry Rd SE
Atlanta, GA 30339
website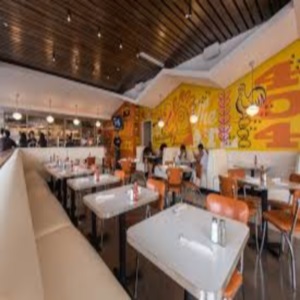 Chick-A-Biddy
Shaun Doty and Lance Gummere have taken the concept of their Bantam & Biddy and added it to the Atlantic Station landscape with Chick-A-Biddy. Gluten-free Piri Piri and Fried chicken reigns here with a tasty assist from farm fresh veggie sides. Weekend brunch favorites include Fried Chicken and Waffles and Cheddar Biscuits. Rise and shine!
Be the first to review.
Phone:(404) 588-1888
Address:264 19th St.
Atlanta, GA 30363
website