Something about the summer just makes us crave salads. Most of us are starting to spend more time outdoors and poolside, which certainly contributes to why we want to eat something light and healthy, yet we sure don't want to feel deprived so we also still crave something substantial and delicious, of course! Perhaps these are the reasons that Taylor Farms is our summer salad go-to, and now that they have even more delicious varieties to choose from, we are diving in to these pack-filled salad meals sometimes daily!
They just came out with one that we Southerners started clamoring for - the
Farmhouse Bacon Chopped Salad
. Everything comes right in the bag, and we thought we'd add in some extra protein, so we opted on free-range R
otisserie Chicken. Absolutely delicious! Just look at all of the ingredients that come in the bag - fresh and all done in a snap! Check out our video that shows how easy it is, and it makes the perfect summer meal.
With fresh romaine, kale, sunflower seeds, and bacon tossed with a sweet onion dressing, the Taylor Farms Farmhouse Bacon Chopped Salad puts a new spin on healthy comfort food!
Check out this video for step-by-step instructions: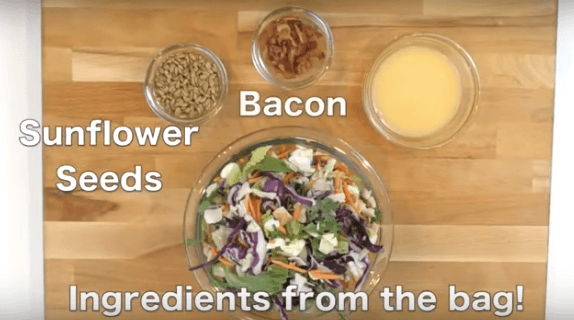 Ingredients:
1 Rotisserie Chicken
"In-the-bag":

Green Cabbage
Kale
Romaine lettuce
Carrots
Roasted, all-natural sunflower seeds
Green onions
Bacon
Dressing: Onion Slaw
Directions:
Remove chicken from rotisserie chicken and shred.
Pour dressing over salad and toss. Save a bit of the dressing for later.
Plate and top salad with shredded chicken, drizzle remaining dressing, then top with fresh cracked pepper.