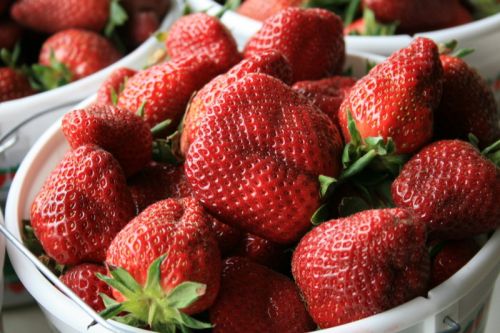 Have you always gotten your berries in the produce section of the supermarket? Or even at a produce stand? That's swell, but this spring why not head to a nearby farm and try picking your own? Fun AND delish!
Strawberry Farms
The first berry of the season. But, did you know, these popular guys aren't even really berries. Nope, they're part of the rose family. And, like Shakespeare said, a rose by other any name would smell (and taste) as sweet. Here are some fun places for you to get a jump on some sweet U-pick action.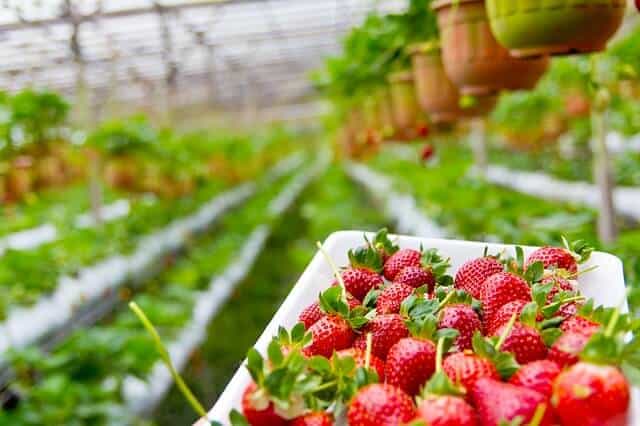 Breland Hill Strawberry Farm Address: 15096 Lowcountry Hwy (Hwy 21) Ruffin, SC 29475 Phone: 843-866-7560 Ready for picking: May The first stop on your U-Pick Em tour should be right here on this fun farm in the lowcountry of South Carolina. The strawberries have been in since April along with squash, cucumbers and tomatoes and more.
Sweet Berry Farm Address: 1801 FM 1980 Marble Falls, Texas 78654 Phone: 830-798-1462 Ready for picking: May The strawberries are just waiting for you to come and get them at Sweet Berry. Their goats, donkeys and horses are eager to see you too. Jump around in the Berry Bounce or hop on board the Sweet Berry Express Barrel Train and top it off with homemade ice cream.
Hand Melon Farm Address: 533 Wilbur Avenue Greenwich, NY 12834 Phone: 518-692-2376 Ready for picking: June Located in New York State, the strawberries wait till June till they're ready to be plunked in a bucket to be made into a pie or enjoyed straight off the vine. Other fruits and lots of veggies are available for U-pick through the rest of the year or at their popular farmers market.
Blueberry Farms
Superfoods to the Rescue! Researchers at UC Davis say blueberries may reduce the build-up of so-called "bad" cholesterol that contributes to cardiovascular disease and stroke. Antioxidants are believed to be this berry's "magic ingredient", protecting against cancer and preventing inflammation which can cause Alzheimers. They're also an excellent source of Vitamin A which is good for eyesight. Plus they taste so good on cereal, in smoothies, with yogurt or just by the handful.
Lone Hickory Farm Address: 1800 Tanyard Road Lafayette, TN 37083 Phone: 615-666-7167 Ready for picking: July and August Come early in the morning to pick their luscious blueberries at their sweetest. Then check out the flowers, herbs and veggies that grow all year. You can also get plants, shrubs and trees for your own garden.
Blueberry Woman Dead Creek Ranch Address: 10818 SW 90th Street Graham, FL Phone: 352-225-1361 Ready for picking: Late May - July Located near Gainesville, this chemical-free farm on the Santa Fe River is brimming with three kinds of blueberries and they're happy to explain the difference and how to best use them. Did you know that the purple-blue berries continue to ripen after picked and are best for jams and canning/ Their "Choice" blueberries are sweet and great to eat right off the bush (after rinsing them, of course).
Hickory Nut Gap Farm Address: 57 Sugar Hollow Road Fairview, NC 28730 Phone: 828.628.1027
Ready for picking: Blueberries - Late June; Blackberries - July; Raspberries - August This family farm, near Asheville, is dedicated to serving its community and the land and has been for generations. Their U-pick berry season spans the summer season beginning in mid-June and going through August. But there's fun to be had all year long with baby animals, hay rides, corn mazes and more. The farm also humanely raises grass-fed beef, pork and poultry.
Blackberry Farms
Blackberries have so much going for them. They help lower the risk of heart disease and stroke, and the risk of certain cancers. They help prevent diabetes and age-related memory loss. Plus, their low fat and high fiber content make them a great choice for those watching their weight. But mostly, blackberries are so good on pies, cobbler, ice cream or by themselves. They taste even better if you pick them yourself!
Sweet Acres Farm Address: 7570 Bill Wilson Road Alto, GA 30510 Phone: 678-769-5335 Ready for picking: June You can find blackberries the size of quarters on thornless bushes of this northeast GA farm, making for a scratch-free day of picking. If you're not into canning your own, pick up a jar of their own jam, some honey from their hardy-working bees, and a variety of pickles and relishes right there on the farm.
Blackberries of Houston Address: 19531 Cypress Church Road Cypress, TX 77429 Phone: 281-373-5357 Ready for picking: May Well, you know they do everything bigger in Texas, and blackberries are apparently no exception. Beginning in mid-May, you can pick berries larger than quarters! AND they're grown on trellises and thornless, so they're easy to reach and don't bite back. Plus you can pick up other treats like fresh cucumbers, tomatoes, squash and eggplant at this farm run by a couple who've been married more than sixty years!
Wildside Winery Address: 5500 Troy Pike Versailles, Kentucky 40383 Phone: 859-879-3982 Ready for picking: July Surrounded by Kentucky's beautiful horse farms, this farm raises grapes for several varieties of wines. Stop by for a tasting, a tour, some live music or plan a wedding, special event or just a girls' night out. How's this for a deal? Visitors who pick their blackberries get to keep half of what they pick (for free) and give the other half to the winery for their blackberry wine. Sounds like a plan to us!
Other Cool U-Pick Farms:
Amber's U-Pick Cherry Farm Address: 9300 Leona Avenue Leona Valley, CA 93551 Phone: 661-270-1919 Ready for picking: May Just about 50 miles north of Los Angeles, this family run U-Pick Cherry Farm offers a cool retreat in the Leona Valley. They have 21 varieties of cherry trees blooming from May through July. The luscious fruit is easy to pick and you can rest after your labors with a picnic on their lovely grounds, reminding you that life can be a bowl of cherries!
Holmestead Farm U-Pick Address: 6582 Clay County Road 7 Talladega, AL 35160 Phone: 256-404-4316 Ready for picking: May This place has it all. Starting in late May through July you can pick strawberries, blackberries, blueberries and grapes. Don't stop there. There're also acres of okra, squash, peaches, muscadines and scuppernogs, plums, tomatoes and figs just ripe for the plucking. If you're not into U-pick, get yours "ready to go" at their fruit stand. And you can get your own garden growing from the thousands of trees, vines, bushes and flowers from their nursery.
---