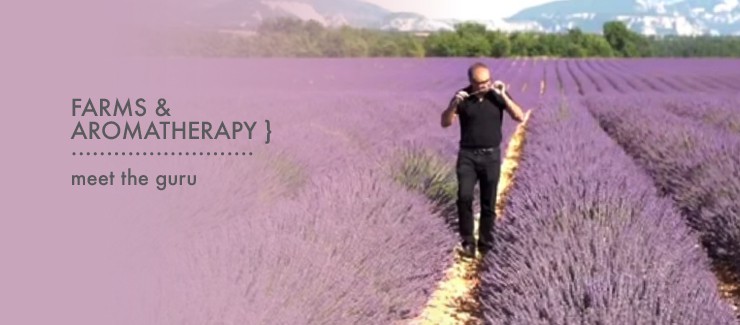 Aromatherapy is something that I have been interested in for a long time, and while doing research, I discovered Guru Nanda, and I was relieved to hear it wasn't one of the multi-level marketing aromatherapy companies that are so prevalent today. Rather it is simply a company purely focused on providing high-quality, premium oils sourced from farms across the world. I felt like I hit the jackpot, and so I sat down with the founder "Puneet" Nanda to learn about his company and shared passion.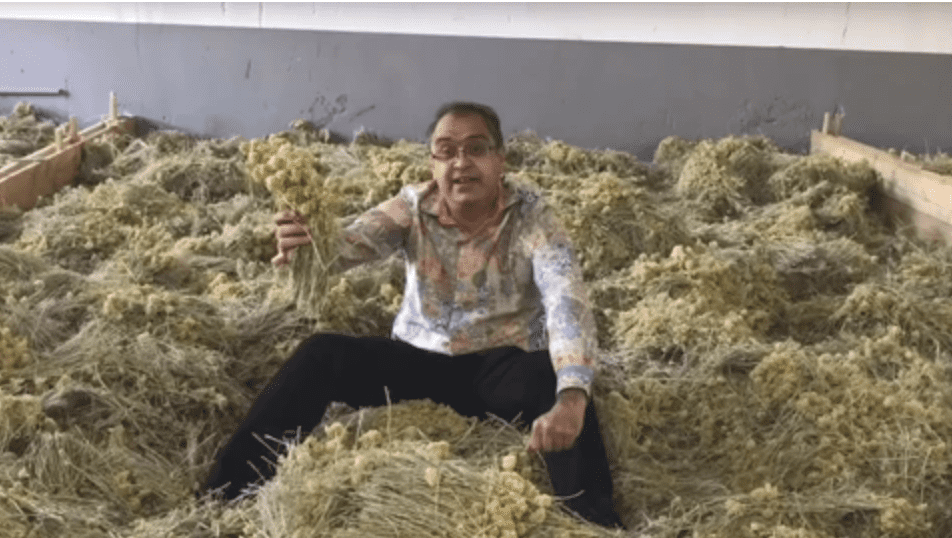 Puneet has quite a compelling story. His life was forever changed when he himself tried an essential oil after someone insisted that it could 'cure' his life-long affliction with allergies. He doubted that it would be true, but he obliged and found that his allergies disappeared. Just like that – and this was the turning point of his life.
"Until you experience the way aromatherapy changes your life, it's hard to believe it 100%, but I knew what had just happened and I had to learn more and more .. and more."
Not only did this change him, but he began to make lifestyle changes – including yoga. He became more healthy, more energetic, more inspired – and forty pounds lighter.
With a new passion and zest for life, Puneet embraced aromatherapy and also a healthier lifestyle, and began traveling the world to see for himself and learn more about where the oils' herbs and flowers were grown.
"When I went to Bulgaria or France, I would sit down with the older generations, asking them the questions about why they had been using the particular flowers or herbs there - like lavender - for all of these years. Then, why the generations before them – for centuries in fact, had found it to be so important for their health."
What he learned was that these herbs and flowers had been used in their own home remedies, and they would help families' ailments, and each flower and herb accomplished different things. These older folks stressed how these herbs and flowers had proven their healing properties for the many generations before them as well. This gave him the confidence that it wasn't just his own experience, it was world-wide and proven for centuries. His purpose evolved, and it became to not only gain better health for himself, but to help transform the life and health of others.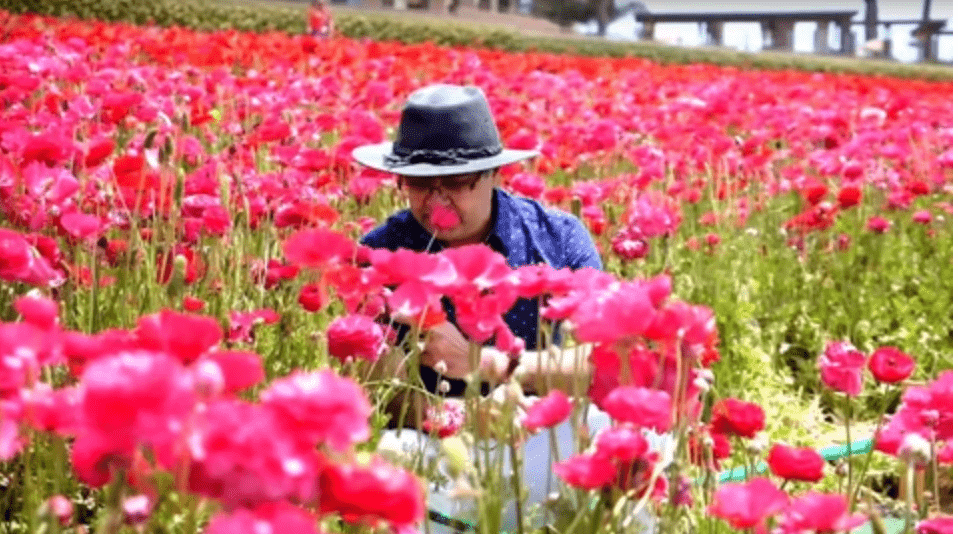 During this research, Puneet also learned that not all oils are created equal. Puneet explained that many aromatherapy products claim to be 100% pure and natural, but they are not. They often contain harsh chemicals and synthetic ingredients, and he didn't want something that wasn't completely pure.
"Essential oils are like fine wines. Not all wines are the same as each other, or offer the same quality and experience in taste, smell and complexity, and neither are the essential oils. If you are knowledgeable about wines, or even coffees, you know that where they are grown is essential to the quality of product that you will find. And I realized that if I wanted to provide an aromatherapy product of true excellence, I needed to go to the best sources for them. Go into the specific regions of the world most conducive to growing the best herbs, flowers and products."
This was the the beginning of the global farm network that he put together and start of his company Guru Nanda, which today provides 138 leading essential oils from flowers and herbs that he personally sources from all over the world. Once the plant is picked, the oil is extracted, placed in a barrel, sealed, and shipped directly to their own bottling facility. This process leaves no room for adulteration by a 3rd party and they are 100% pure.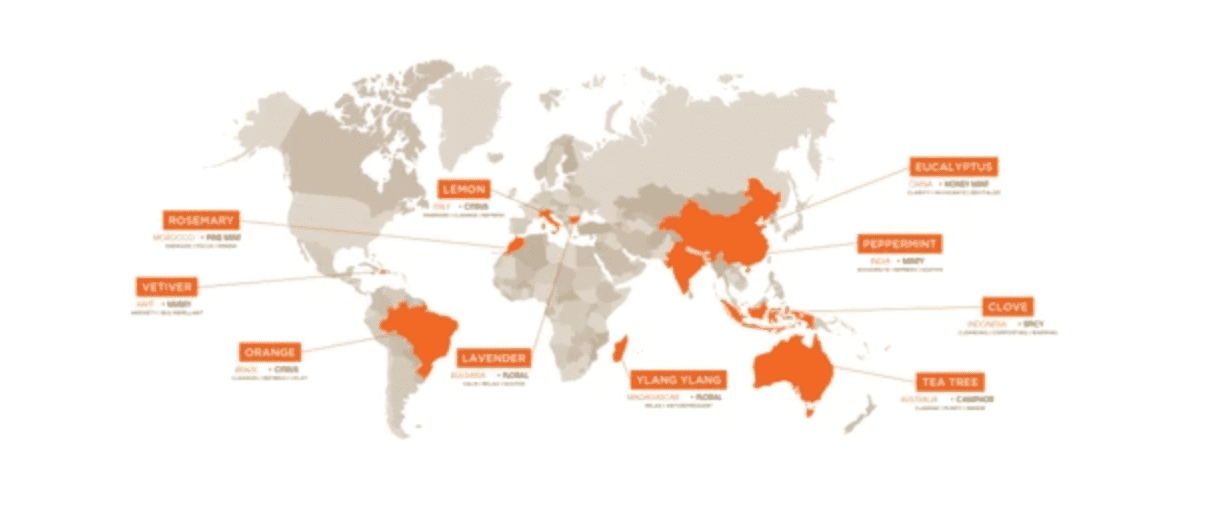 Puneet met with farmers and watched for himself whether the farms followed sustainability practices they touted, whether they were truly organic or conventional, and to what degree did they care for their land, the environment, and most especially, their products. Plus how were they harvested, and under what conditions. Once he found the best sources of these herbs from farms in their indigenous native lands, he knew he was onto something grand and unique.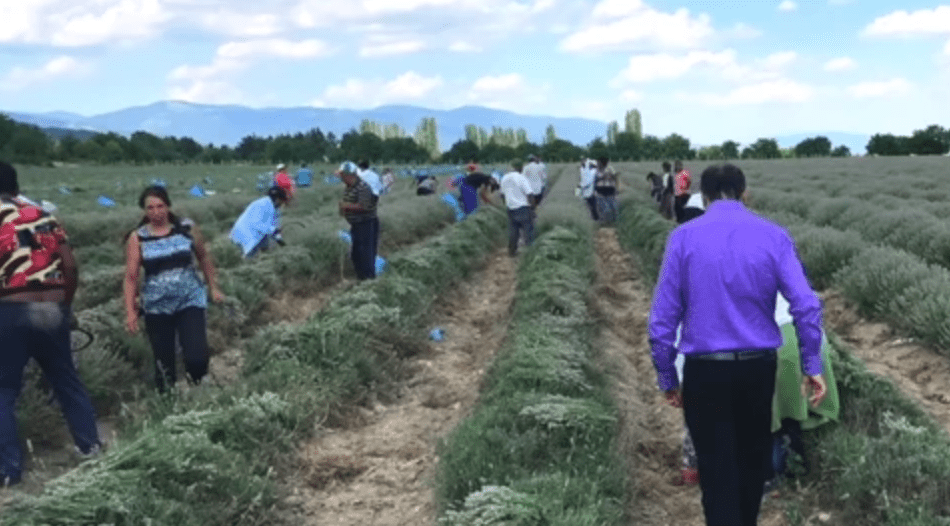 I asked him what were some of the best oils that we should consider.
"Hands down, the favorite of most women is the Harmony Blend. It makes them feel more happy and even lucky whenever they use it! My doctor even nicknamed it her 'Lucky Charm.'"
Harmony
has six different citrus oils – mandarin, grapefruit, oranges, tangerine, et al, as well as vanilla. The combination both lifts your moods as well as settles you down.
What about the men? He said that there's a favorite blend bought by both men and women, but men typically gravitate towards Breathe Easy. It has a unique blend, and women seem to think that it also opens up one's heart more.
"Women find that when the men in their lives wear it, they seem to communicate more. Peppermint, eucalyptus, rosemary, basil and even tea tree work together to create a blend of their own magic. Originally it was developed for Sinus or upper-respiratory issues and served as a pick-you-up, energizing and opening you up, along with having anti-infective properties and also increasing your blood circulation. Combining them not only seems to awaken your senses, but it seems to open you up emotionally as well!"
So how do you use these oils?
"I suggest you diffuse it into your air, selecting the oils that will help you with whatever health condition or ailment that you seek to improve."
There's basically an oil for every need you might have. For example, Puneet explained that when cold or flu season arrives, he goes to the Immunity Oils. He puts them in office diffusers, cranking them through the hallways everyday, allowing extra help and protection for the employees and visitors. He says it has oils to prevent you from getting sick.
"I sometimes even put it on my toothbrush stand so if I feel that I'm on the verge of getting sick, I'll put a couple of drops in a cup and add lukewarm water, gargle with it. I feel amazing."
How else can one enjoy or use these oils? Puneet had some more great tips.
"Sometimes I will fill a hot cup of with water, put a few drops of a special oil that I need at that time - and inhale repeatedly for a few times. This way I can take them with me when I travel. Also, I fill up a spray bottle and will spray it on the walls of the bathroom, and then turn on hot water and let it steam the shower, it becomes like a spa."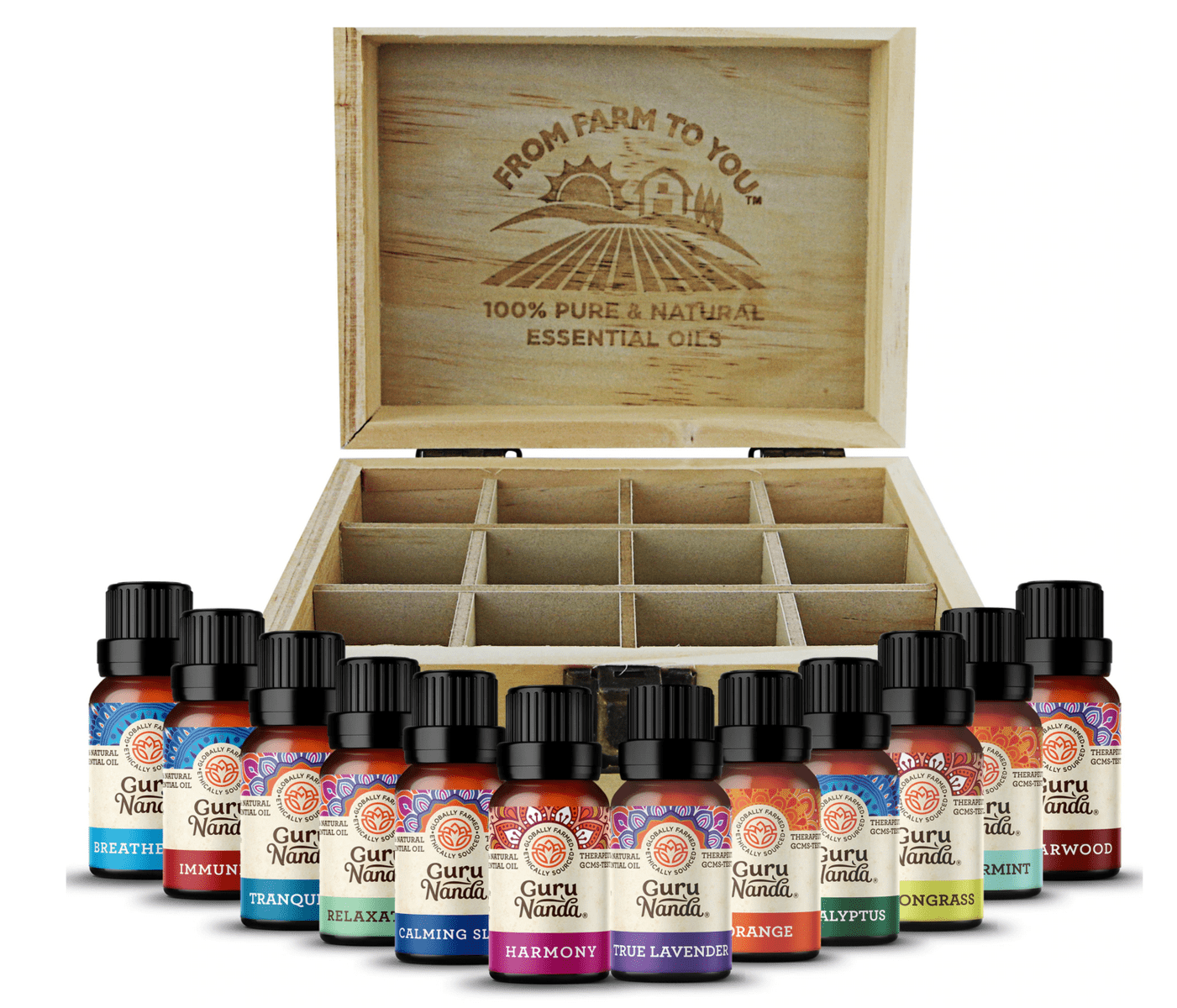 People also use aromtherapy oils for:
Diffusion
Baths
Shower sprays
Cosmetics and bath and personal care products
Cold compresses
Massage
Inhalers
Skin ointments
Beauty regimens
While Puneet finds his purpose in helping others achieve their own desired health benefits – just like he's personally found through the oils, his company is growing and adding more to offer eager aromatherapy customers. Today Guru Nanda offers its 138 essential oils, plus top-of-the-line aromatherapy diffusers, including the new GuruNanda Tower XL 2-in-1 Humidifier & Diffuser that produces mist for up to 12 hours and the first product of its kind to offer both humidifying and diffusing capabilities.
This just sounds heavenly to me, and I would love to have my mood enhanced while having my home and office smell beautifully for everyone, too! And, if it can heal me from my allergies or help me sway a cold?? I'm in!


EXCLUSIVE DISCOUNT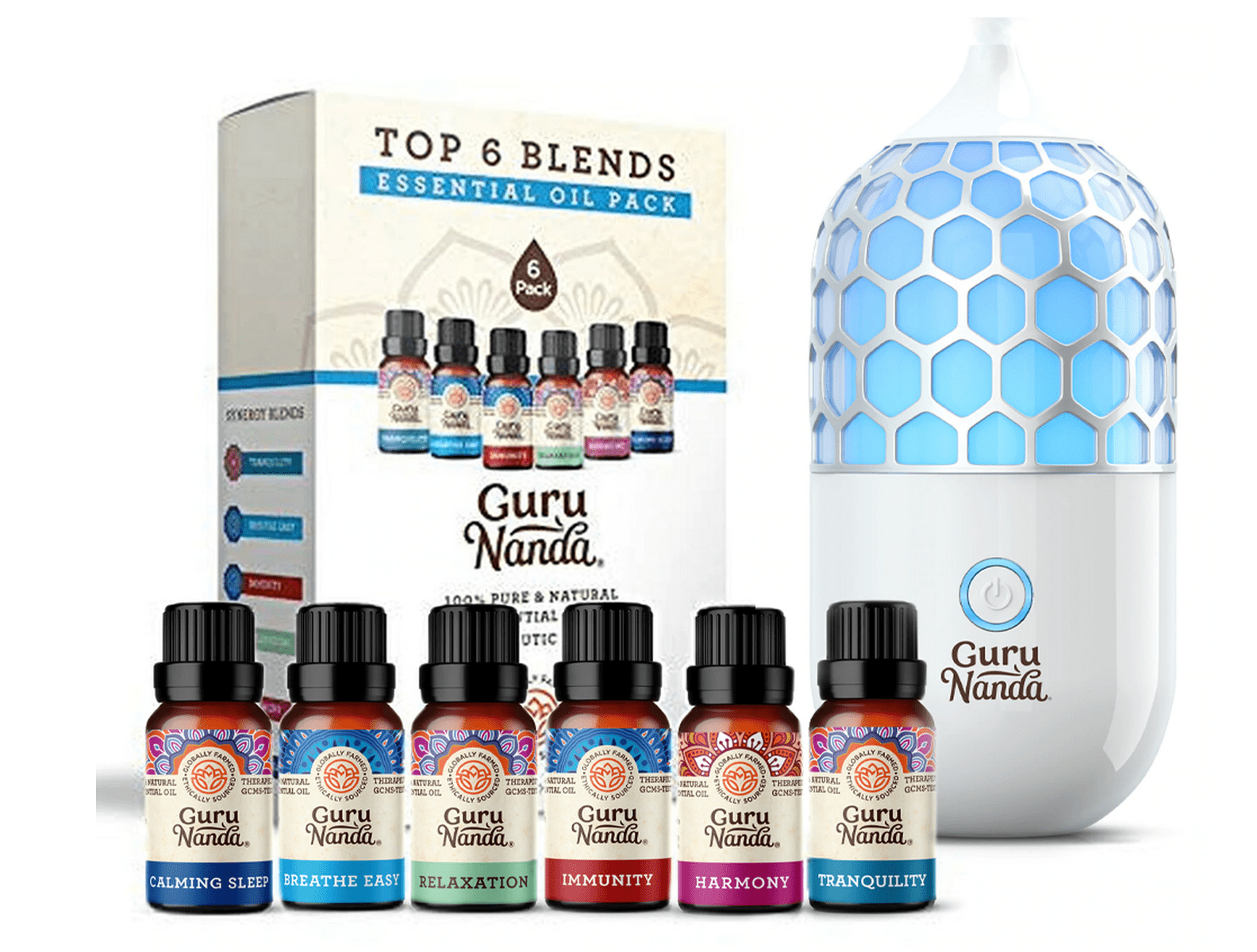 Feel free to shop
Guru Nanda
, and Puneet said that he'd give us a discount if you wanted to try anything! For now, you can use the
FARMSTARLIVING10 to receive 10% off of your own order
!
(NOTE: I don't make anything personally from that, just passing along some great value to you!)
---