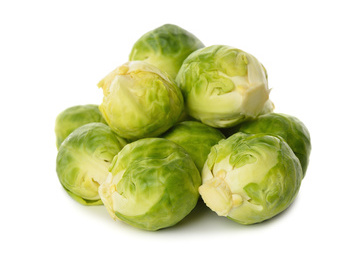 Health Benefits:
Anti inflammatory
Anti viral qualities
Detoxifying effects
Improves hair skin and nails
Increases Sex Hormones & Orgasm
Increases immunity
Increases stamina
May reduce risk of cancer
May reduce risk of diabetes
May reduce risk of heart disease
May regulate heart rate
Pain reliever
Protects skin from UV rays
Provides energy
Reduces risk of lung cancer
Nutrition:
Serving size: 1 cup; Calories: 38; Fat: .3g; Cholesterol: 0mg; Sodium: 22mg; Carbs: 8g; Fiber 3.3g; Sugars: 1.9g; Protein: 3g; Potassium: 9%DV; Vitamin A: 13%DV; Vitamin C: 124%DV; Calcium: 3%DV; Iron: 6%DV
Did You Know?
Brussels sprouts are rich in vitamin K, C, A, and B6.
They are also a good source of copper, calcium, potassium, iron, manganese, and phosphorus - important for regulating heart rate and blood pressure
Linus Urbanec holds the world record for the most Brussels sprouts eaten in one minute (31 sprouts).
A recent poll has found that Brussels sprouts are the most hated vegetable in the United States and Britain!
Ways to Eat:
Boiled
Grilled
Roasted
Sauteed
Pull the leaves off and turn them into chips
Shreded as a slaw
Raw in a salad
Farming Trivia:
Brussels sprouts as we currently know them were grown as rearly as the 13th century in Belgium!
French settlers brough the plant to Louisiana in the 18th century, and theus began the production of Brussels sprouts in the United States.
Most of the production of Brussels sprouts is in California, with some in Washington and New York.