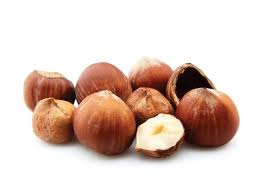 Health Benefits:
Aids in digestion
Anti aging
Enhances production of breast milk
Improves hair skin and nails
Pain reliever
Provides energy
Reduces risk of bladder cancer
Nutrition:
Serving size: 10 kernels; Calories: 206; Fat: 1.8g; Cholesterol: 0mg; Sodium: 2mg; Carbs: 44g; Fiber: 8g; Sugars: 9g; Protein: 2.7g; Potassium: 14%DV; Vitamin A: 0%DV; Vitamin C: 36%DV; Calcium: 2%DV; Iron: 4%DV
Did You Know?
Of all the different kinds of nuts, chestnuts are the only ones that contain vitamin C - it has 45% of the recommended daily amount!
The caloric intake if chestnuts is increased once they're boiled.
Early in the 20th century, the American-chestnut tree was almost wiped out by pathogenic fungus chestnut blight.
Ways to Eat:
Farming Trivia:
Chestnuts are native to temperate regions of the northern hemisphere.
The chestnut was introduced to Europe from Asia around 2,000 BCE.
Because of the chesnut blight wiping out most of the chestnut trees in America, the United States only accounts for less than 1% of the world production.