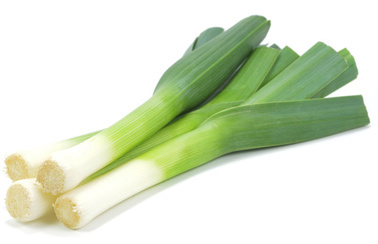 Health Benefits:
Anti viral qualities
Detoxifying effects
Prevents sinusitis
Nutrition:
Serving size: 1 cup chopped; Calories: 54; Fat: .3g; Cholesterol: 0mg; Sodium: 18mg; Carbs: 13g; Fiber: .2g; Sugars: 3.5g; Protein: 1.3g; Vitamin A: 29%DV; Vitamin C: 17%DV; Calcium: 5%DV; Iron: 10%DV
Did You Know?
Leeks are low-cal and a great source of soluble and insoluble fiber
Leeks are related to garlic, onions, shallots, and scallions
Leeks were prized by the ancient Greeks and Romans and were especially revered for their beneficial effect upon the throat. Aristotle credited the clear voice of the partridge to a diet of leeks, while the Roman emperor Nero supposedly ate leeks everyday to make his voice stronger.
Ways to Eat:
Sauteed
Finely chopped in salads
Pureed with cooked potatoes to make a soup
Farming Trivia:
The Romans considered leeks royal food because it was Emperor Nero's favorite food
Most leeks come from Michigan, California and Virginia and they are available year around in super markets
Leeks can be planted year round