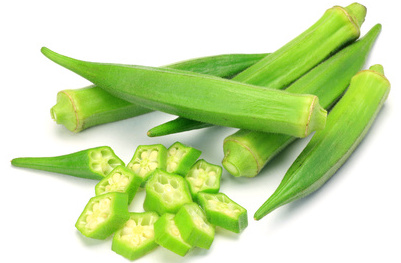 Health Benefits:
Aids in weight loss
Fights asthma
Fights free radicals
Helps control LDL cholesterol levels
Increases immunity
May reduce cholesterol
May reduce risk of birth defects
May regulate blood sugar
Relieves congestion
Relieves constipation
Relieves heartburn
Nutrition:
Serving size: 1 cup cut; Calories: 33; Fat: .2g; Cholesterol: 0mg; Sodium: 7mg; Carbs: 7g; Fiber: 3g; Sugars: 1.5g; Protein: 1.9g; Potassium: 0%DV; Vitamin A: 14%DV; Vitamin C: 38%DV; Calcium: 8%DV; Iron: 3%DV
Did You Know?
For smooth and rejuvenated skin, boil a handful of okra until soft, let it cool, mash it and apply it to your face for 5 minuets! !
Okra's mucilage not only binds to cholesterol but to bile acid carrying away toxins dumped into it by the filtering liver.
Nearly half of the nutrient is soluble fiber: gums and pectin. The other half is insoluble fiber.
Don't wash until ready to cook to reduce slime and let sit at room temperature.
Ways to Eat:
Boiled
Steamed
Fried
In soups/stews
Farming Trivia:
Okra, known in many English-speaking countries as lady's fingers, bhindi or gumbo, is a nutritional powerhouse that has been cultivated for more than 2,000 years
Okra can be found on the alluvial banks of the Nile in Egypt
Okra is related to Marsh Mallow