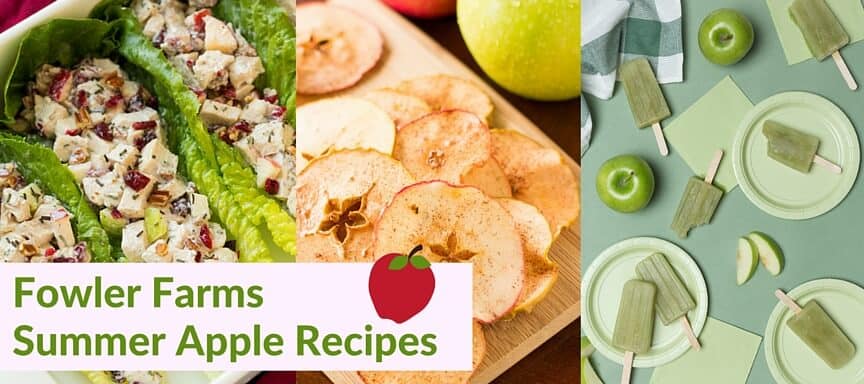 July has arrived, and that means McIntosh, Gala and Ginger Gold apples galore –among many others! Most often, people associate apples with autumn. We'd like to slightly adjust this common correlation, though, because while many varieties do grow in the fall, several also grow in the summer. And they contain the same nutritional value and yummy flavor as fall apples! Lucky for us, too, because it's summertime, and we're ready for that juicy crispy goodness apples bring this time of year.
In our opinion, apples are quite the super fruit! In addition to being a great source of antioxidants, vitamins and minerals, and dietary fiber, they help reduce the risk of heart disease, diabetes, tooth decay, cholesterol and so much more. They're super versatile, and because of the high fiber, they help keep you slim and feeling full longer. They definitely live up to the great reputation they've developed over the years. An apple a day really can keep the doctor away!
Some of our favorite apples come from Fowler Farms, a family-owned farm just south of Lake Ontario in New York. Having been in the business for six generations, Fowler Farms has truly perfected the art of cultivating apples, and currently, they grow over 23 varieties! They take a special interest in each apple they grow, making sure they control each stage of the growing process. They aim to uphold their reputation of excellence and to keep their customers happy. We'd say they're doing a pretty great job!
Here are a few of our favorite summertime recipes made with Fowler Farms apples:
Apple Pecan Rosemary Greek Yogurt Chicken Salad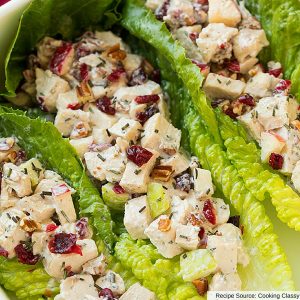 Ingredients: SALAD
1 lb boneless skinless chicken breasts, cooked, cooled and dice into small cubes
1 1/4 cups chopped golden delicious, gala or fuji apple (chop small)
1/3 cup chopped pecans
1/3 cup dried cranberries, roughly chopped
DRESSING
1 (5.3 oz) container fat-free plain greek yogurt (heaping 1/2 cup)
2 Tbsp mayonnaise
1 Tbsp red wine vinegar
2 1/2 tsp finely chopped rosemary
1 tsp dijon mustard
1/2 tsp honey
1/2 tsp onion powder
Salt and freshly ground black pepper
Lettuce or whole grain bread, for serving
Instructions:
Add chicken, apples, pecans and cranberries to a large mixing bowl.
In a separate small mixing bowl mix together greek yogurt, mayonnaise, red wine vinegar, rosemary, mustard, honey and onion powder.
Season with salt and pepper to taste. Pour over chicken mixture then toss to evenly coat.
Serve in lettuce or on whole grain bread.
Baked Cinnamon Sugar Apple Chips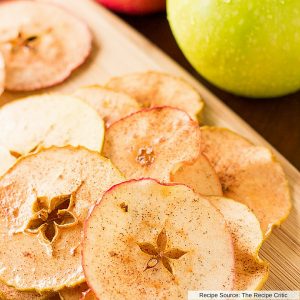 Ingredients:
3 apples (Granny Smith, Honey Crisp, and/or Pink Lady)
1/2 cup granulated sugar
1 Tablespoon ground cinnamon
Instructions:
Preheat oven to 225F degrees. Line two baking sheets with silicone baking mats or parchment paper. Set aside.
In a small bowl, mix sugar and cinnamon together. Set aside.
Using a mandoline or a sharp knife, thinly slice the apples. Evenly, spread the apple slices onto the prepared baking sheets. Sprinkle cinnamon-sugar mixture over top of each apple slice.
Bake for 1 hour, flip the apple slices over and bake for another hour.
Green Apple Popsicles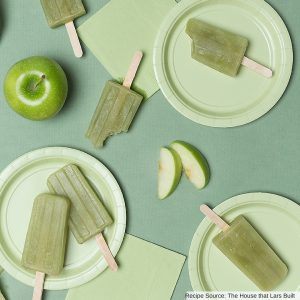 Ingredients:
4 Granny Smith Apples
1 Juiced Lemon
2C water
1/2C Sugar
Instructions:
Core and dice the apples, put in a plastic freezer bag, and cover with the juice from 1 lemon.
Mix the juice in with the apples in the bag, and stick in freezer.
In a pot, boil together water and sugar til nicely dissolved.
Let cool. In a blender, blend together apples and water mixture.
Strain into a bowl with a fine mesh sieve.
With remaining mixture fill molds, freeze, and enjoy!
---