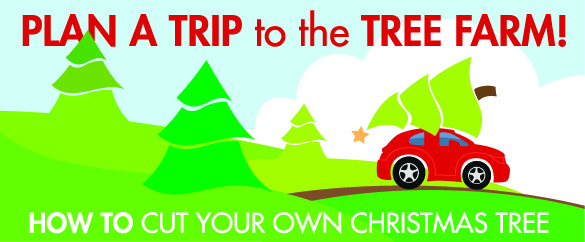 So you want to cut your own Christmas tree? Then how fun are you! There are so many amazing Christmas tree farms to choose from, and you can easily find them near you by using our Farm Fun Finder. Most of them are family affairs and have been around for a long time - generations in most cases, and they are run like a tight ship but so warm and friendly. This is these farmers' best time of year, so understand you're in for a fun outing and festive occasion.
But, there are a few things that you need to know before you get started!
According to the National Christmas Tree Association …. ok, did I get your attention? Yes, there's actually an association for this! Where was I? OH, yes. According to the National Christmas Tree Association, the cutting down of a Christmas tree is a 2-person project. So bring your BFF or partner. Heck, bring everyone! One to cut, the other to hold the limbs out of the way and steady the tree as it falls. Or perhaps even stopping it from falling?!
Typically, a saw will be provided to you. I don't know about you, but I think that's pretty cool! However, be prepared and ask your selected farm in advance. You'd hate to arrive in your lumberjack gear and be unable to actually cut one down! So, call first. They'll tell you what you need to bring.
Then, what to wear? Girlfriends, leave the stilettos at home. Wear boots, dress warm, bring gloves and be ready for some outdoor action! There are farms that will delight you silly. There are wagon rides to be taken through hundreds of acres of trees, as well as bonfires to roast marshmallows and tons of cider to sip at many of these farms. It is an experience! Bring it on!
Speaking of experience, really let it loose and make the most of this one! Be prepared for a full day of fun, as seriously, how fun is this going to be for your whole crew? And, don't shoot the messenger, but leave the family pet. Yes, many farms don't want the cute pup with you, as the farmers are often afraid of trees being, ahem, "marked!" So call first to see if pets or allowed, and if so bring a leash.
If you're curious about the types of trees that will work best for you, then I suggest you do a bit of homework. Or do what I do and just wing it and see what strikes my fancy! Here's an awesome tree guide that will help you see the different types of the most popular trees grown on farms nationwide.
Many farms will help you shake off any dead needles, wrap the tree, put it on a stand, even sell you a stand, and help you get on your merry way.
Don't forget to load up on garland and buy a fresh wreath while you're at it! Nothing smells better than the forest pine scent in a living room with the waft of a fireplace. I just love it, and I am feeling so ready for the season! How about you???
Overall, I think you're going to have a blast. Please let us know how it goes, would you be so kind? We have a Facebook page and would welcome your posts and comments! OR tweet to us @farmstarliving. We're so excited for you – and bundle up!
---