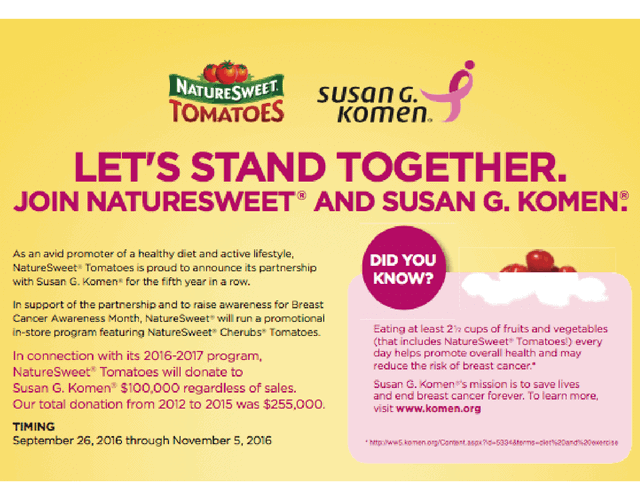 NatureSweet® Stands Tall Against Breast Cancer
With Breast Cancer Awareness month in swing, people and organizations around the world are standing together and thinking "pink!" October is the dedicated month for raising awareness, encouraging healthy lifestyles, being proactive about getting tested, and increasing prevention of this terrible disease.
Breast cancer awareness is a cause near and dear to our, and many of our farm families', hearts. NatureSweet®, a producer of tomatoes located in San Antonio, Tex., is one of these farms. For the fifth year in a row, NatureSweet is teaming up with Susan G. Komen® to help spread awareness and raise money.
Through Nov. 25, they will be running in-store promotions featuring their signature Cherubs® tomatoes – you may have already seen their special edition pink containers. And, regardless of their tomato sales, they (oh so generously) plan to donate $100,000 to Susan G. Komen and breast cancer research!
Studies show that a healthy diet and active lifestyle are key to fighting off illness and disease. In fact, eating at least two and a half cups of fruits and vegetables every day improves overall health and may even
reduce the risk
of breast cancer.
Tomatoes are one of the healthiest fruit-veggies around, too! They improve eyesight, promote good stomach health, and reduce blood pressure, diabetes and cholesterol. Tomatoes have also been proven to fight off many forms of cancer due to the large number of antioxidants they contain. Additionally, they taste great and can be incorporated into so many fun and delicious meals!
Breast cancer is a brutal disease that takes far too many lives. Luckily, with a healthy lifestyle and proper prevention, many cases can be caught early enough to fight and potentially even defeat. Get tested annually, go on more walks, and eat more fruits and vegetables. There's nothing to lose with being healthy and active, and now that we know it can also help fight cancer and other diseases, it's a win-win!
Are you joining the cause and being preemptive? Join Farm Star Living and NatureSweet in showing support by wearing pink and contributing to this great and worthy cause. Pick up some NatureSweet Cherubs tomatoes at your local market today!
See you on the farm!
---