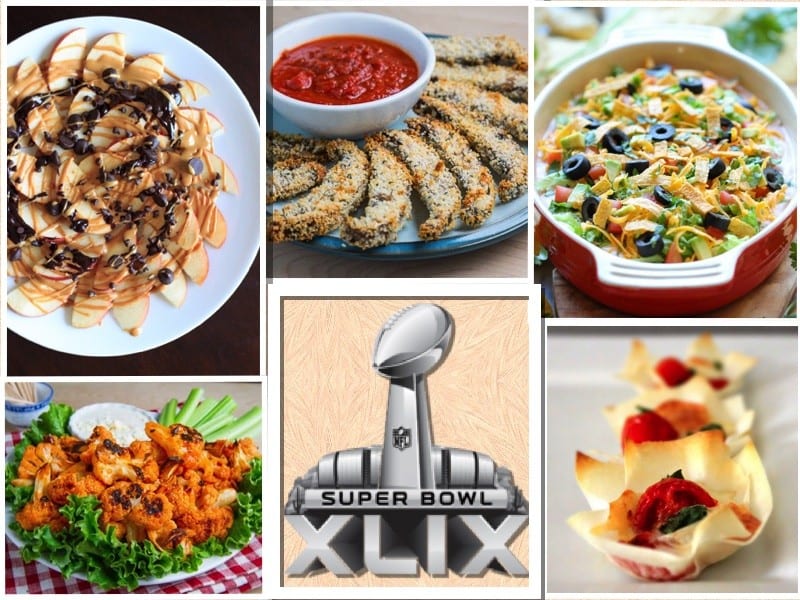 TOUCHDOWN! Kick start your Super Bowl, and score points with this Game-Changing, Meat-less Starting Line-up! When serving these to your family & friends game-day, you are guaranteed a huge victory. Whether your cheering for the Patriots or the Seahawks you're all sure to agree that these recipes are winners! Trust us, no one will miss the meat in delicious, and super easy dishes. Go teams!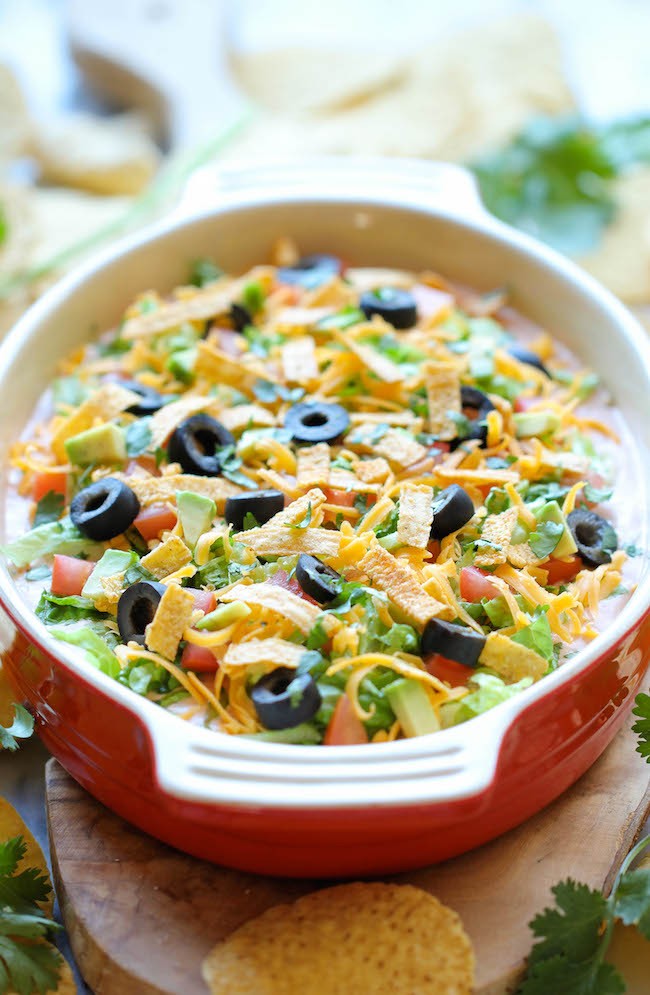 Skinny Taco Dip Ingredients
1 (8-ounce) package 1/3 low-fat Cream Cheese, at room temperature
1 1/2 cups salsa, homemade or store-bought
3/4 cup light fat sour cream
1 tablespoon taco seasoning
1 1/2 cups shredded romaine lettuce
2 Roma tomatoes, diced
1/2 cup shredded sharp cheddar cheese
1/4 cup sliced black olives
1/4 cup tortilla strips
Instructions
In the bowl of an electric mixer fitted with the paddle attachment, beat cream cheese, salsa, sour cream and taco seasoning on medium-high until well combined, about 1-2 minutes.
Serve immediately, topped with lettuce, tomatoes, cheese, olives and tortilla strips.
Picture & Recipe Courtesy of:
Damn Delicious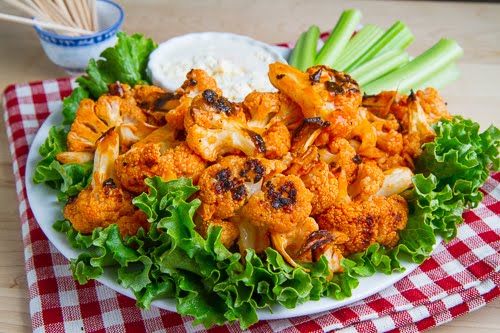 Buffalo Roasted Cauliflower Prep Time: 10 minutes Cook Time: 20 minutes Total Time: 30 minutes Servings: makes 4 servings
Ingredients
1 head cauliflower, cut into florets
1 tablespoon oil
salt and pepper to taste
1/4 cup hot sauce
blue cheese or ranch dressing for dipping (optional)
Instructions
Toss the cauliflower florets in the oil, salt and pepper, arrange in a single layer on a baking sheet and roast in a preheated 400F oven until lightly golden brown, about 20-30 minutes.
Toss cauliflower in the hot sauce and enjoy warm with blue cheese or ranch dressing for dipping and celery sticks on the side.
Picture & Recipe Courtesy of:
Closet Cooking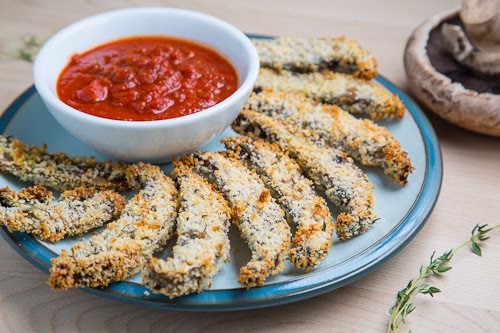 Crispy Baked Portobello Mushroom Fries Servings: makes 2 servings Prep Time: 10 minutes Cook Time: 10 minutes Total Time: 20 minutes
Ingredients
2 medium portobello mushrooms, gills removed and sliced 1/4 inch thick
1/2 cup flour
2 eggs, lightly beaten
3/4 cup panko breadcrumbs
1/4 cup parmigiano reggiano (parmesan), grated
1/2 teaspoon thyme
salt and pepper to taste
Instructions
Dredge the portobello slices in the flour, dip them in the egg and then into a mixture of the panko breadcrumbs, parmesan, thyme salt and pepper.
Place the mushroom slices on a wire rack on a baking sheet and bake in a preheated 425F oven until golden brown, about 8-12 minutes.
Picture & Recipe Courtesy of:
Closet Cooking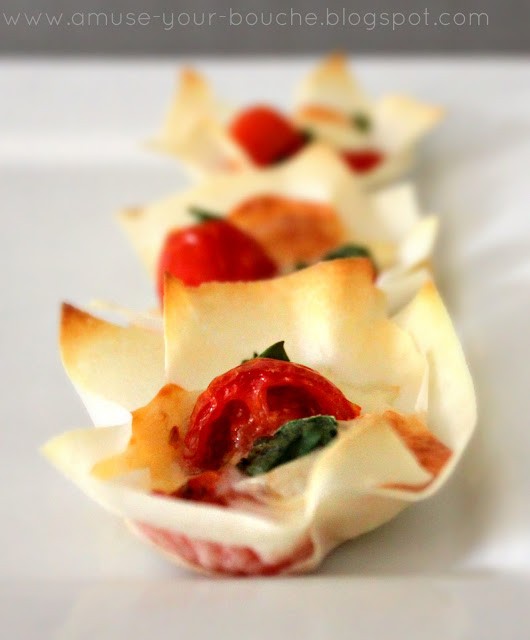 Margherita Pizza Cups (Makes 8)
Ingredients
1 Can of spray oil or 1 tsp oil
3-4 sheets spring roll wrappers or filo pastry
60g mozzarella cheese, cut into 1cm cubes
4-8 cherry tomatoes
8 small basil leaves
Instructions
Preheat the oven to 400°F and lightly grease 8 cups of a cupcake tray (spray oil is ideal for this).
Cut the pastry into 16 squares, each measuring 2-3 inches. Put two squares together, one at an angle so they form an 8-pointed star. Press this into a cup of the cupcake tray, and press down so it takes the shape of the cup. Repeat with the remaining squares of pastry.
In each pastry cup, add a cherry tomato (cut in halves) , a cube of mozzarella and a fresh basil leaf.
Bake for 10-15 minutes, until the pastry is crispy and the cheese is melted and slightly browned. Once cooked, leave in the cupcake tray for a couple of minutes before lifting them out.
Picture & Recipe Courtesy of:
Amuse your Bouche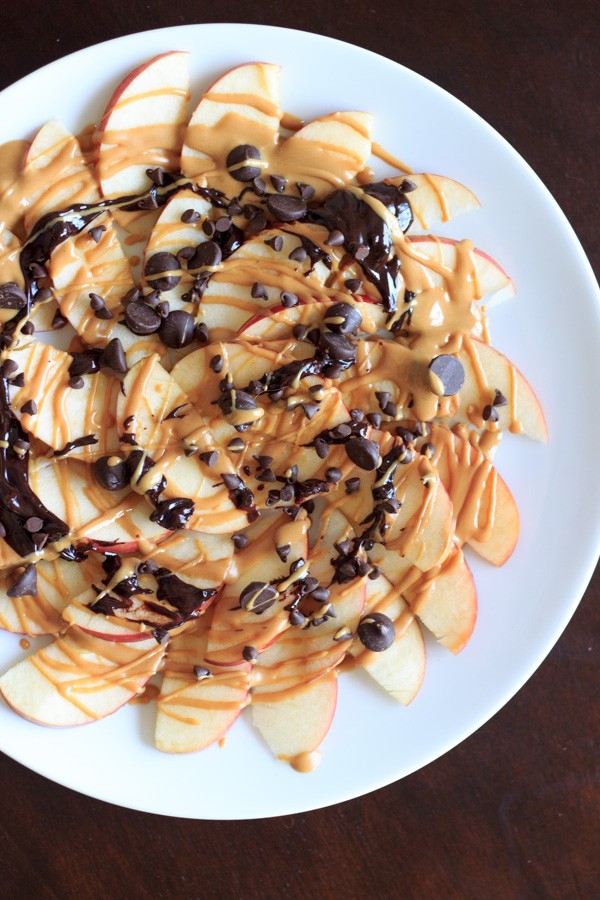 Peanut Butter & Chocolate Apple Nachos Prep Time: 5 minutes Total Time: 5 minutes
Ingredients
1 Fuji apple (or apple of your choice)
1/4 cup smooth peanut butter, melted
1/4 cup semi-sweet chocolate chips, melted
handful of chocolate chips (your choice), for sprinkling
Instructions
Cut the apple into about 32 thin slices*
Arrange apple slices on a plate.
Drizzle melted peanut butter over apple slices with a spoon, and do the same with the melted chocolate.
Sprinkle handful of chocolate chips over the plate as topping.
Serve immediately.
Picture & Recipe Courtesy of:
Trial and Eater
One, if not all, of these delicious recipes could be the MVP of your Super Bowl party!
Share & Link your awesome Super Bowl party recipes to our Facebook Page!
---