Glorys® Tomato Pizza Bites Recipe
Ingredients:
1 10.5-oz. container NatureSweet® Glorys® tomatoes, quartered

3 tbsp. extra virgin olive oil

2 cloves garlic, minced

2 tsp. fennel

1/4 cup fresh basil, chopped

Whole Wheat Pita Bread*

1 cup shredded mozzarella cheese

Salt and pepper to taste

*U

se Gluten Free pita for GF version
Instructions:
Preheat oven to 400° F.

Cut Glorys® tomatoes into quarters. Add minced garlic, olive oil, fennel and chopped basil. Fold gently, set aside.

Place whole wheat pita rounds on greased pizza pan or cookie sheet. And drizzle with olive oil.

Sprinkle mozzarella cheese onto rounds. Spoon 1-2 tbsp. tomato mixture over cheese.

Bake 10-12 minutes until cheese is melted and bubbly. Enjoy!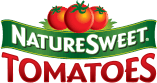 https://www.farmstarliving.com/glorys-tomato-pizza-bites-2