Roasted Veggie Bowl with White Onion Mustard Dressing Recipe
Bowl Ingredients:
1 Peri & Sons Onions - sliced into thin wedges

1 head of cauliflower - cut into bite-size pieces

1 can chickpeas - drained and dried

1 bunch kale - de-ribbed and sliced

5 cloves garlic- 3 whole, 2 minced

3 tbsp olive oil - divided
Dressing Ingredients:
1 roasted Peri & Sons Onion

2 Tbsp Dijon Mustard

2 tbsp fresh parsley

1 tbsp apple cider vinegar

1/2 cup olive oil

salt & pepper to taste
Directions:
Preheat oven to 400F.

Place cauliflower and chickpeas onto a baking sheet and drizzle with 1 tbsp of olive oil. Sprinkle with salt and pepper, and toss to coat.

Slice 2 Peri & Sons Onions into thin wedges and place onto a baking sheet. Drizzle with 1 tbsp of olive oil, sprinkle with salt and pepper, and toss to coat.

Place baking sheets in the oven and roast veggies for 30 minutes.

While the vegetables roast, heat 1 tbsp olive oil in a pan over medium heat. Add minced garlic and cook for 1 minute. Toss in the kale and stir to coat kale with garlic and olive oil. Cook for 5 minutes or until wilted and bright green.

Once vegetables are roasted, add 1 roasted Peri & Sons onion, mustard, parsley, apple cider vinegar, and salt and pepper to a food processor. Process for 1 minute then slowly drizzle olive oil while still allowing food processor to run.

Serve roasted vegetables in a large bowl over your favorite grain like rice or quinoa. Top with a generous dollop of the roasted onion dressing and top to combine. Enjoy!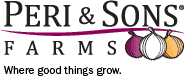 https://www.farmstarliving.com/roasted-onion-veggie-bowl-with-mustard-onion-dressing