Tropical Kiwi Salsa Recipe
Ingredients:
4 KiwiStar Kiwis, peeled and chopped
1 mango, peeled and chopped
1/2 small red onion, chopped finely
3 plum tomatoes, chopped
2 small Fresco cloves garlic, minced
1/3 cup cilantro leaves, minced
1 tablespoon olive oil
2 limes, juiced
2 teaspoons salt
Directions:
Peel and chop KiwiStar Kiwis and mango and place in medium bowl.
Chop red onion and tomatoes and add to bowl of chopped fruits.
Mince garlic and cilantro and combine with prior ingredients.
Drizzle olive oil over salsa ingredients (all now in medium bowl).
Cut the limes into quarters and juice them by hand over salsa, then sprinkle with salt.
Toss all ingredients that have been combined in the medium bowl together.
Make sure ingredient are mixed well. Serve as a side dish or topping on your main dish.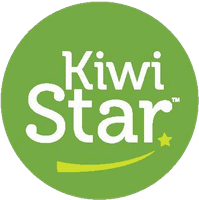 https://www.farmstarliving.com/tropical-kiwi-salsa-sliders