NatureSweet® Cherubs® Tomato, Black Bean, & Corn Salad Recipe
Ingredients
1 10.5-oz. container NatureSweet® Cherubs® tomatoes
1 16-oz. can black beans, rinsed, drained
1/2 cup fresh or frozen corn, thawed
1/2 cup chopped green onion, including tops
2 garlic cloves, minced
2 tbsp. minced fresh cilantro
1/4 cup orange juice
1 tbsp. balsamic vinegar
1/4 tsp. salt
1/4 tsp. sugar
1/4 tsp. chili powder
Directions
Combine beans, corn, onions and NatureSweet® vine-ripened Cherubs® tomatoes in a large bowl.
Combine garlic, cilantro, orange juice, lime juice, vinegar, salt, sugar and chili powder in a small bowl.
Pour over salad; toss lightly.
Cover and chill 2 to 3 hours so flavors will blend.
Toss again before serving.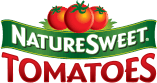 https://www.farmstarliving.com/naturesweet-cherubs-tomato-black-bean-corn-salad