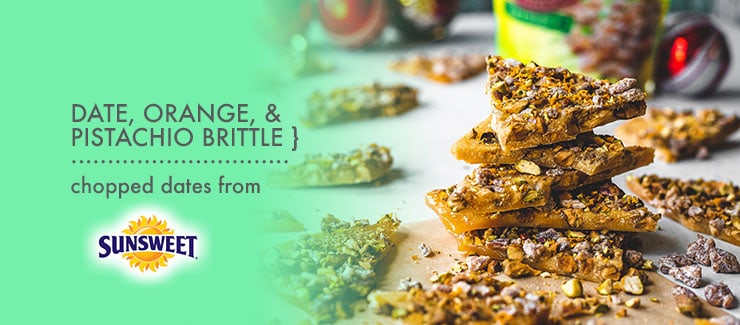 We all deserve a little extra sweetness every now and then don't we?! We're not just talking about indulging in something sweet to eat (you definitely deserve that, too), but it's also important to really take your time to enjoy the sweet little moments life can bring. Whether you're enjoying a hot cup of tea, reading a book, or spending time in the kitchen, there's always a little magic to discover if you look in the right places.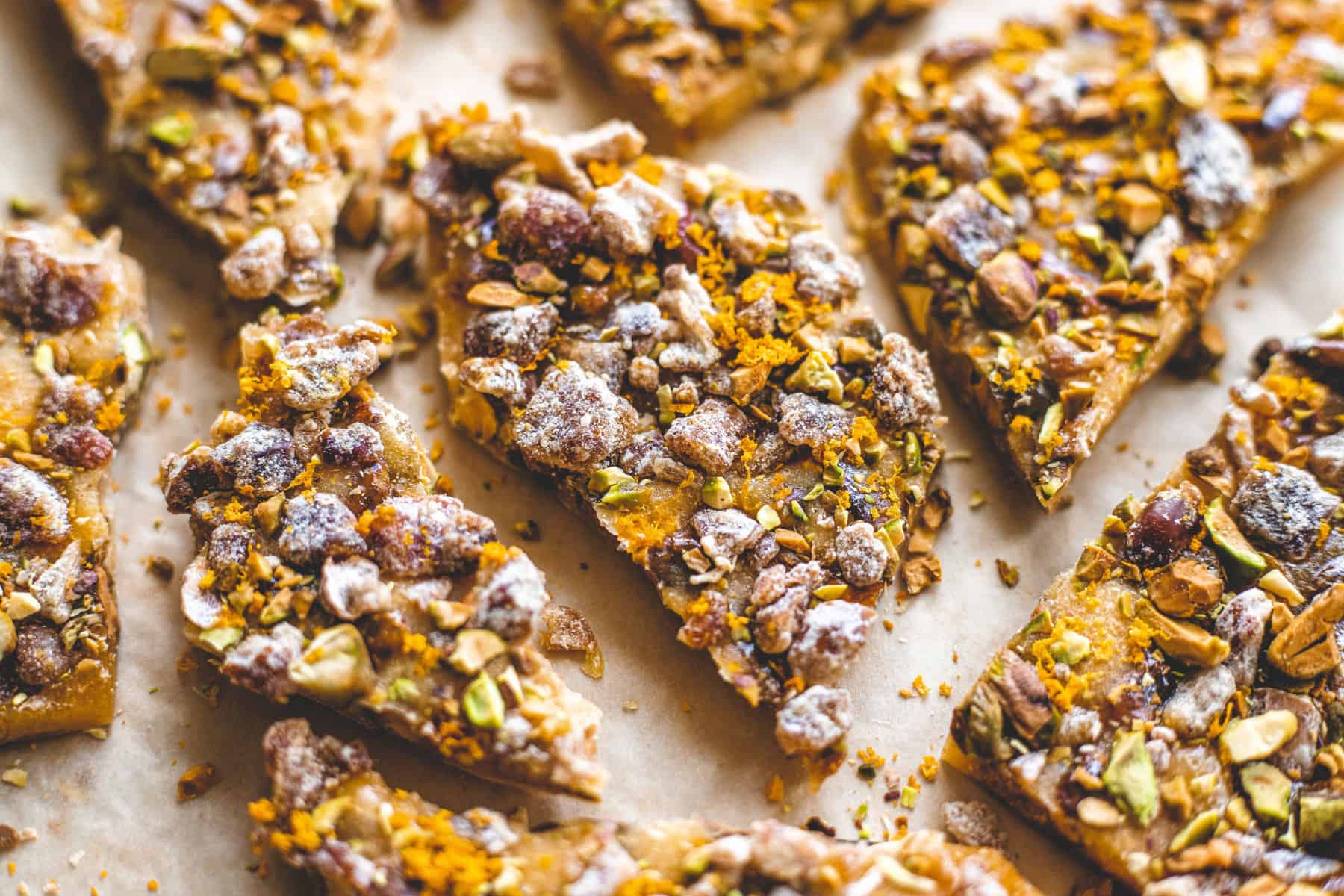 These days, we are focusing on the magic we make in the kitchen during the holidays and this sweet, crunchy, flavorful brittle brings a bit of magic to anyone's day. It's the perfect homemade gift and it certainly makes a delicious addition to your holiday cookie boxes! You're going to love the flavor of this brittle and the textures are unlike any other brittle we've tried and it's all because of the addition of chopped dates from Sunsweet®.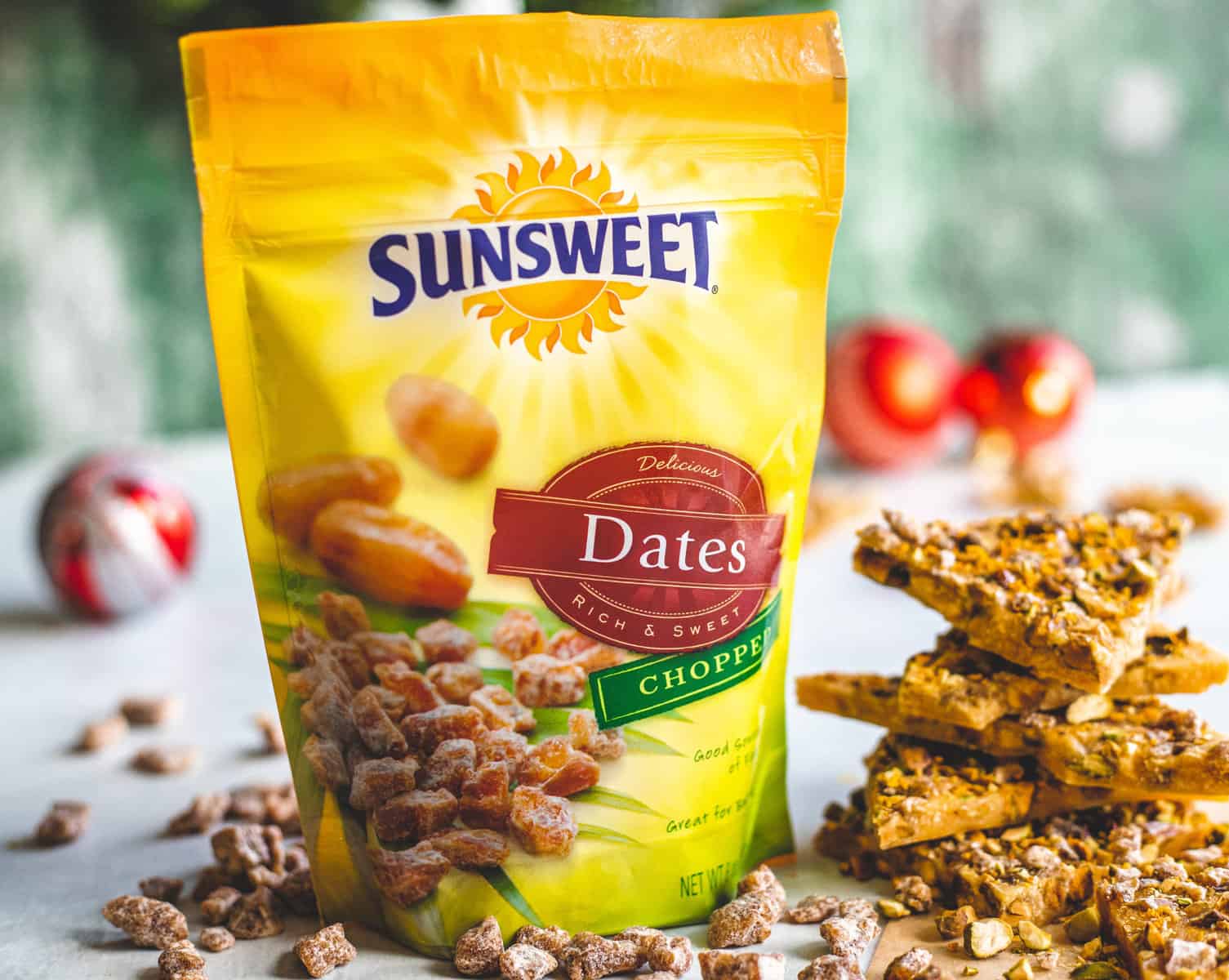 These chopped dates are the reason this textural brittle is unlike and other – they're soft, chewy, and sweet. Plus, they're pre-chopped so that's one less thing for you to tackle when making this recipe (thank you, Sunsweet!). Plus, you know you're getting a premium product because Sunsweet only grows and sells premium-quality dried fruits. Sunsweet has become the world's largest and most famous brand of dried tree fruits like prunes, apricots, mangos, and more! You can learn more about the Sunsweet story here.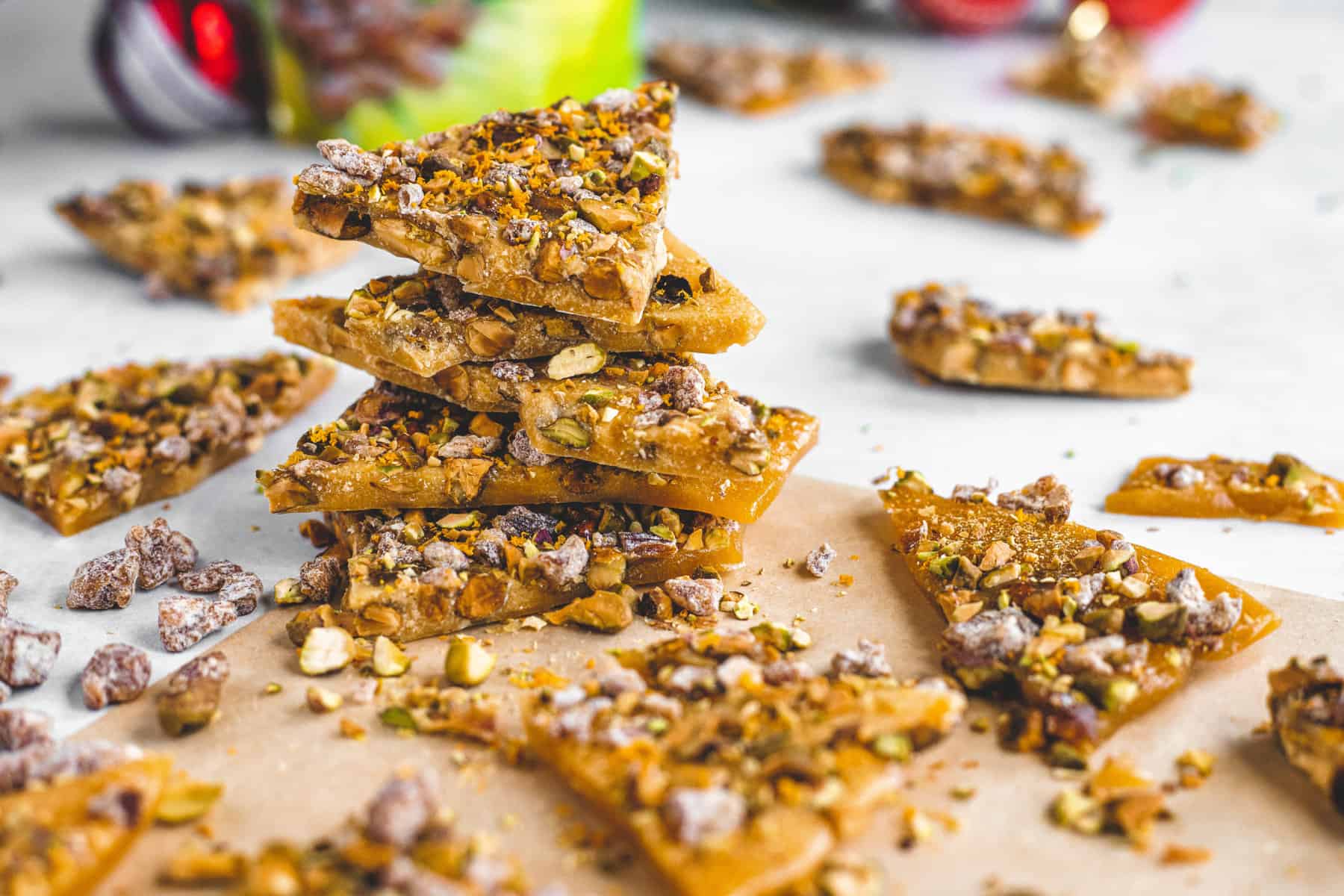 For this recipe, you will need two tools that you may not already own – a candy thermometer and microplane (or zester). A candy thermometer is crucial in this recipe because when you're cooking with sugar, it's important to be aware of the temperature of the sugar. Here's a few tips and tricks to making this process fool-proof:
Temperature: Keep a close eye on the temperature of the sugar. If the temperature gets to 350F then the sugar will burn and you'll have to start over.
Heat: All stoves run differently so it's important to keep the heat level between medium and high. If you cook the sugar at too high of a heat, then you run the risk of burning your sugar without allowing it to cook and melt properly.
Mise en place: A.K.A "a culinary process in which ingredients are prepared and organized (as in a restaurant kitchen) before cooking." Basically, pre-measure all ingredients before you begin. Once the temperature of the sugar reaches between 250 & 300, this recipe happens fast.
Timing: Once it's time to pour the sugar onto the baking sheet and add toppings, work very quickly so the toppings will stick to the brittle. Once poured, the brittle cools VERY quickly and you'll need to add toppings as fast as possible before the brittle cools.
Microplane or Zester: You'll need one of these tools to add the tiny pieces of zest to the top of the brittle.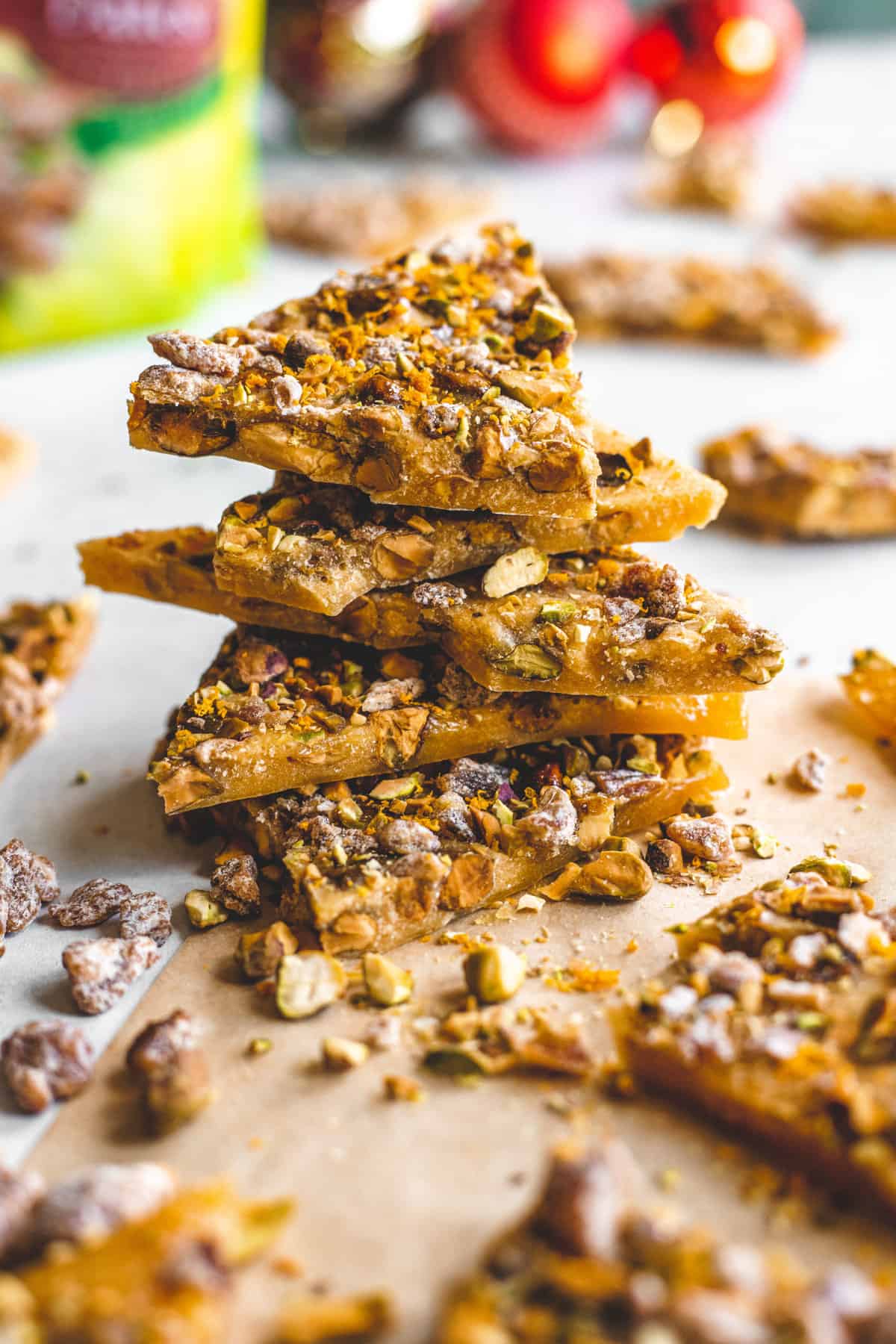 Add this recipe to your cookie boxes, keep it on the counter when you need a sweet treat, or wrap in a gift box to share with someone you care about. As always, don't forget to tag us and Sunsweet on social media when sharing your recipes. We love to see what you create! Happy happy happy holidays to your and yours!

Ingredients:
4 cups sugar

1 cup water

1 cup light corn syrup

1 tsp baking soda

4 tbsp unsalted butter

2 cups chopped Sunsweet® dates

1 orange

2 cups shelled pistachios – whole

1/2 cup pistachios – chopped
Directions:
Measure all ingredients so they are ready to use as this recipe requires you to work quickly.

Add sugar and water to a medium sized pot over medium/high heat and stir to melt sugar. Add light corn syrup and mix once more. Place candy thermometer into the pot (tip of thermometer should be submerged in the liquid but not touching the bottom of the pot).

Slowly bring sugar mixture to a low boil without increasing the heat to high. Once sugar reaches 250F add pistachios and mix to combine.

Continue to cook and heat the sugar mixture. Once mixture reaches between 260F and 300F remove from the heat and quickly add butter and baking soda and mix to combine ingredients. The mixture will foam and turn a caramel color. NOTE: if the color of the sugar mixture doesn't turn into a caramel color, return to medium heat and stir constantly while sugar cooks a bit longer and the color turns.

Quickly pour mixture onto a parchment paper lined baking sheet and spread into a thin and even layer. Immediately sprinkle brittle with chopped dates and chopped pistachios. Top with orange zest while still warm.

Carefully press toppings into the warm brittle so they'll stick a bit better. You may also use the back of a spatula for this step to avoid hot brittle.

Allow brittle to cool on the counter for at least 30 minutes. Crack into pieces with your hands and enjoy!

calories 248| Total Fat 4g | Saturated Fat 1g | Monounsaturated Fat 2g | Polyunsaturated Fat 1g | Cholesterol 5 mg | Sodium 37 mg | Potassium 153 mg | Total Carbohydrate 54g | Dietary Fiber 2g | Protein 1 g 3% | Vitamin A 2% | Vitamin C 3% | Calcium 4% | Iron 2%
---