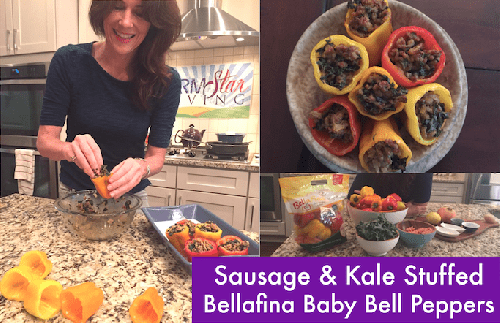 Ingredients:
24 baby sweet peppers
2 Tbsp olive oil
1/2 cup chopped onion
1 lb Italian sausage
4 cups finely chopped kale
1 tsp garlic powder
1 tsp dried oregano
1/2 tsp salt
Juice from 1/2 lemon
2 eggs
Directions:
Start by heating the olive oil in a large pan until hot. Add the onion and sausage and saute until cooked.
While waiting for the sausage to cook, chop the kale. I suggest working in smaller manageable batches
Now that the sausage is cooked and the kale is chopped, add the kale, garlic powder, oregano, salt and lemon juice.
Stir until the kale is wilted, then take the pan off the heat to let the filling cool.
While the filling cools, you can work on the peppers. Clean them well, cut off the tops and use a spoon to remove the seeds and ribs. This would also be the perfect opportunity to preheat your oven to 400 degrees F.
Once your filling is cooled enough to not cook your eggs, add them and mix together.
Stuff the mixture into each individual pepper. Using your hands works best.
Now throw them into the oven for 15 minutes, and finish them under the broiler for a few minutes to brown the skin. ENJOY! THEY ARE DELICIOUS!
---