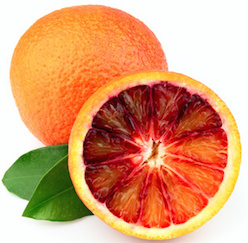 Health Benefits:
Aids in digestion
Aids in red blood cell formation
Aids in weight loss
Anti aging
Fights free radicals
Helps control LDL cholesterol levels
Improves bone and muscle health
Improves hair skin and nails
May reduce cholesterol
May reduce risk of cancer
May reduce risk of diabetes
May reduce risk of heart disease
May reduce stress
Promotes eye health
Promotes healthy gums and teeth
Promotes heart health
Protects skin from UV rays
Reduces risk of colon cancer
Relieves constipation
Nutrition:
Serving size: 1 fruit; Calories:69; Fat: 0g; Cholesterol: 0mg; Sodium: 0mg; Carbs: 16g; Fiber: 3g; Sugars: 13g; Protein: 0g; Potassium: 5%DV; Vitamin A: 8%DV; Vitamin C: 110%DV; Calcium: 4%DV; Iron: 0%DV
Did You Know?
Buy blood oranges that are heavy for their size and that are firm to the touch. Pass on blood oranges that have soft or spongy spots on the rind.
Blood oranges are less acidic than regular oranges and their flavor and aroma are faintly reminiscent of raspberries
Blood oranges help prevent LDL cholesterol accumulation
They are sweeter than regular table oranges and have less bitterness and acidity as well.
Store the fruit in the refrigerator and it'll last for about two weeks.
When eating the fruit, don't peel off the white pith because it supplies a good amount of fiber.
Ways to Eat:
Raw
Juiced
In fruit salads
Farming Trivia:
The color of blood oranges is due to the pigment anthocyanin, not usually found in citrus fruit but common in other red fruits such as cherries and strawberries
The blood orange, with it's sweet, deep red colored flesh, was most likely the result of a mutation that occurred in 17th century Sicily
Blood oranges are in season from December through May, though the exact months vary depending on what type of blood orange you're buying.

The Moro variety is available from December through March.
The Tarocco is available from January through May.