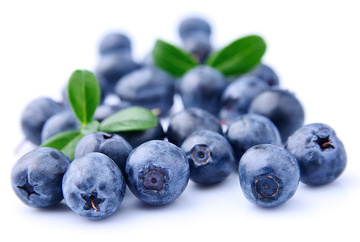 Health Benefits:
Aids in weight loss
Anti aging
Anti inflammatory
Fights free radicals
Helps control LDL cholesterol levels
Improves memory
Inhibits cancer cell growth
Lowers blood pressure
May reduce cholesterol
May reduce risk of cancer
May reduce risk of diabetes
May reduce risk of heart disease
May reduce risk of stroke
May reduce risk of urinary tract infections
May regulate blood sugar
Promotes heart health
Protects against DNA damage
Protects skin from UV rays
Relieves the symptoms of urinary tract infections
Nutrition:
Serving size: 1 cup; Calories: 85; Fat: .5g; Cholesterol: 0mg; Sodium: 1mg; Carbs: 21g; Fiber: 4g; Sugars: 15g; Protein: 1.1g; Potassium: 3%DV; Vitamin A: 1%DV; Vitamin C: 24%DV; Calcium: 0%DV; Iron: 2%DV
Did You Know?
Blueberries are good for brain health, as they can help reverse short-term memory loss.
Blueberries are small, around 5-16 millimeters (0.2-0.6 inches) in diameter, and have a flared crown at the end.
Antioxidants found in blueberries can help with the development and maintenance of motor skills.
Blueberries are a rich source of potassium, manganese, copper, iron and zinc - that's good for blood health!
Ways to Eat:
Raw
In a salad
In a dessert
Smoothie
Farming Trivia:
Blueberries are native to North America - the longest harvest season is in Georgia, the 5th-highest producer of blueberries in the US.
Hammonton, New Jersey is the self-proclaimed "Blueberry Capital of the World."
Main produces 25% of all the lowbush blueberries in North America.