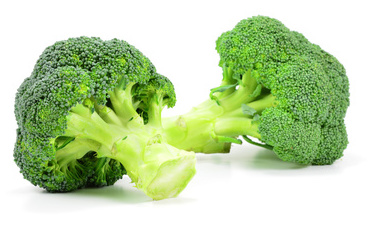 Health Benefits:
Aids in weight loss
Anti inflammatory
Combats fatigue
Improves bone and muscle health
Improves hair skin and nails
Increases Sex Hormones & Orgasm
May reduce cholesterol
May reduce risk of cancer
May reduce risk of hemorrhoids
Promotes heart health
Protects skin from UV rays
Reduces risk of bladder cancer
Reduces risk of breast cancer
Reduces risk of prostate cancer
Nutrition:
Serving size: 1 cup; Calories: 31; Fat: .3g; Cholesterol: 0mg; Sodium: 30mg; Carbs: 6g; Fiber 2.4g; Sugars: 1.6g; Protein: 2.6g; Potassium: 8%DV; Vitamin A: 11%DV; Vitamin C: 135%DV; Calcium: 4%DV; Iron: 3%DV
Did You Know?
Broccoli has been shown to reverse diabetes heart damage because it promotes the production of enzymes that help protect your heart blood vessels.
One cup of chopped broccoli contains the same amount of vitamin C as an orange
Thomas Jefferson loved broccoli! He imported seeds from Italy and began planting broccoli in May 1767.
Someone actually holds a world record for eating broccoli: Tom "Broccoli" Landers ate one pound in 92 seconds!
Ways to Eat:
Raw
In soup
In salad
In pesto
Steamed
Farming Trivia:
The United States is the third-largest producer of broccoli in the world; California produces 90% of the broccoli sold in the USA!
Broccoli was introduced to the United States by Italian immigrants, but it didn't become a popular food until around the 1920's.
Broccoli has been around for over 2,000 years - it's in the same family as cabbage!