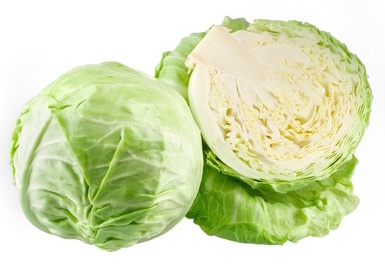 Health Benefits:
Anti aging
Fights free radicals
Helps control LDL cholesterol levels
Helps cure dysentary
Helps prevent night blindness
Improves hair skin and nails
Increases stamina
May reduce cholesterol
May reduce risk of Alzheimer
May reduce risk of cancer
May reduce risk of diabetes
May regulate heart rate
Prevents sinusitis
Reduces risk of breast cancer
Reduces risk of colon cancer
Reduces risk of lung cancer
Reduces risk of prostate cancer
Nutrition:
Serving size: 1 cup chopped; Calories: 22; Fat: .1g; Cholesterol: 0mg; Sodium: 16mg; Carbs: 5g; Fiber:2.2g; Sugars: 2.8g; Protein: 1.1g; Potassium: 4%DV; Vitamin A: 1%DV; Vitamin C: 54%DV; Calcium: 3%DV; Iron: 2%DV
Did You Know?
Fresh cabbage is rich in vitamins B1, B5, and B6, and also contains 61% of the daily recommended amount of vitamin C and 63% of the daily recommended amount of vitamin K.
Additionally, cabbage contains minerals such as potassium, manganese, iron, and magnesium.
Contains phyto chemicals thiocyanates, indole-3-carbinol, lutein, zea-xanthin, sulforaphane and isothiocyanates.
Drinking juiced cabage is known to help cure stomach and intestinal ulcers.
Ways to Eat:
Stuffed
Boiled
In stew
Raw
Roasted
Farming Trivia:
Likely domesticated somewhere in Europe before 1,000 BCE.
Although the United States only accounts for a small portion of the world's cabbage production, it can be grown in all 50 states! The leading states are New York, California, Texas, and Wisconsin.
Varieties include green, purple, napa, savoy and more!