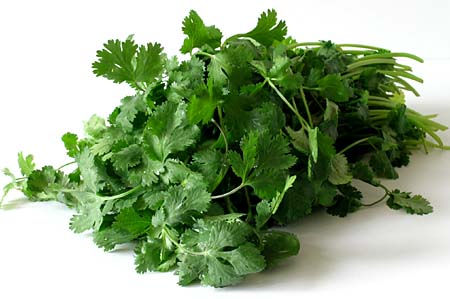 Health Benefits:
Aids in digestion
Combats fatigue
Helps control LDL cholesterol levels
Improves bone and muscle health
May reduce risk of stroke
Relaxation
Relieves bloating
Nutrition:
Serving size: 9 springs; Calories: 5; Fat: .1g; Cholesterol: 0mg; Sodium: 9mg; Carbs: .7g; Fiber: 0g; Sugars: .2g; Protein: .4g; Potassium: 2%DV Vitamin A: 27%DV; Vitamin C: 9%DV; Calcium: 1%DV; Iron: 2%DV
Did You Know?
Studies indicate that cilantro can prevent food poisoning due to a compound called dodecanol, which kills salmonella bacteria
There are many people who find the taste of cilantro repulsive. Some describe it as leaving a soapy taste in their mouths. The reason for the unpleasant taste has to do with genetics.
The Chinese used cilantro in potions, claiming it had the power to give someone immortal life.


Ways to Eat:
Fresh
Juiced
In Mexican dishes or curries
Farming Trivia:
Cilantro is native to southern Europe and the western Mediterranean region and is one of the oldest spices mentioned in history
Cilantro is an annual plant that grows best in dry climates, while tolerating full or partial sunlight
Although it can grow to 2 to 3 feet, the leaves should be harvested when the plant is at least 8 inches tall to obtain the best flavor