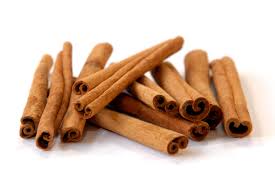 Health Benefits:
Aids in digestion
Anti aging
Anti fungal
Anti inflammatory
Anti viral qualities
Aphrodisiac
Fights free radicals
Helps control LDL cholesterol levels
Improves hair skin and nails
Increases Sex Hormones & Orgasm
May reduce cholesterol
May reduce risk of Alzheimer
May reduce risk of diabetes
May regulate blood sugar
Pain reliever
Relieves PMS
Relieves sore throat
Nutrition:
Serving size: 1 tsp; Calories: 6; Fat: 0g; Cholesterol: 0mg; Sodium: 0mg; Carbs: 2.1g; Fiber: 1.2g; Sugars: .1g; Protein: .1g; Potassium: 0%DV; Vitamin A: 0%DV; Vitamin C: 0%DV; Calcium: 2%DV; Iron: 1%DV
Did You Know?
Cinnamon is the tree, the bark is used to make the spice.
The best cinnamon is Ceylon cinnamon, from Sri Lanka. Cessia is the most common form today
Cinnamon is rich in fiber, manganese, iron, and calcium.
Ways to Eat:
In curry
On apples
On desserts
In hot chocolate
With sugar on toast
On oatmeal
Farming Trivia:
Native to Asia, cinnamon has been used since 2,800 BCE - it was one of the first traded spices in history!
The spice is obtained from the inner bark of the tree. To get it, the outer bark is shaved off and the branch is hit with a hammer to loosen the inner bark.
Sri Lanka produces most of the world's cinamon.