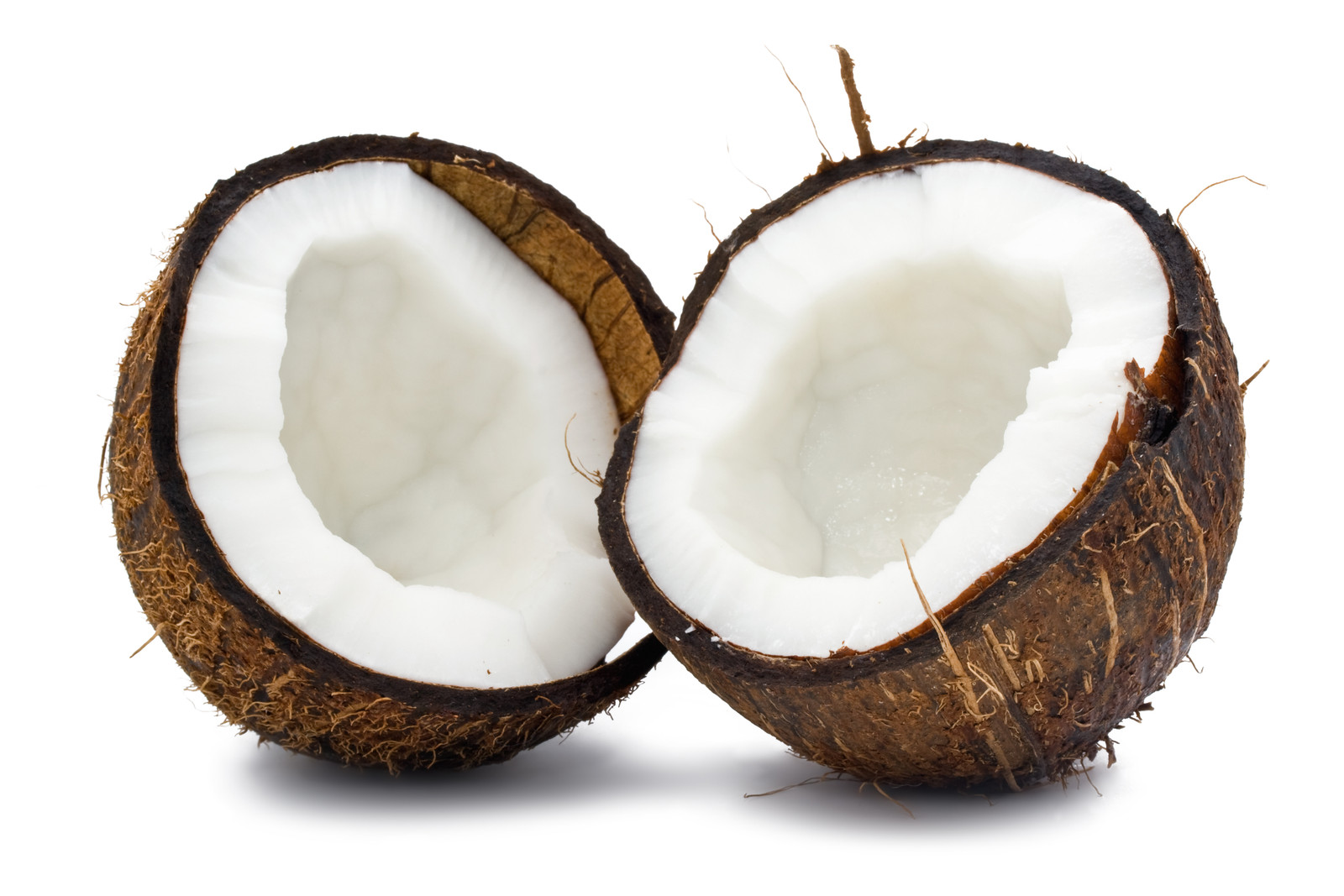 Health Benefits:
Aids in digestion
Anti fungal
Anti inflammatory
Anti viral qualities
Aphrodisiac
Combats fatigue
Detoxifying effects
Enhances production of breast milk
Fights free radicals
Helps cure dysentary
Improves eyesight
Improves hair skin and nails
Increases Sex Hormones & Orgasm
Increases stamina
May reduce fever
May reduce risk of Alzheimer
May reduce risk of macular degeneration
May reduce risk of stroke
Pain reliever
Promotes eye health
Provides energy
Reduces risk of bladder cancer
Reduces risk of lung cancer
Relieves PMS
Relieves indigestion
Nutrition:
Serving size: 1 cup shredded; Calories: 283; Fat: 27g; Cholesterol: 0mg; Sodium: 16mg; Carbs: 12g; Sugars: 5g; Protein: 2.7g; Potassium: 8%DV; Vitamin A: 0%DV; Vitamin C: 4%DV; Calcium: 1%DV; Iron: 10%DV
Did You Know?
Coconuts helpt protect against osteoporosis, gallbladdar disease, Chron's disease, and stomach ulcers.
When applied topically, coconuts help to form a barrier on the skin to ward off infections.
When heated to normal cooking temperature, it doesn't form any harmful by-products like other vegetable oils do.
There are more than 1,300 kinds of coconut, and they can be separated into two main genetic origins: the Pacific Ocean and the Indian Ocean.
Ways to Eat:
Coconut oil
Coconut meat as a topping
Coconut milk
Farming Trivia:
The origin of the coconut is a topic of debate, but it's though to originate in the Americas!
Coconut palms thrive on sandy soils, abundant sunlight, and high humidity - which is why they grow so perfectly in tropical regions.
In fact, conditions required for cocounit palms to grow with no care are a mean temperature between 53.6-55.4º Fahrenheit throughout the year, mean annual rainfall aboce 39.37 inches, and very little overhead canopy.