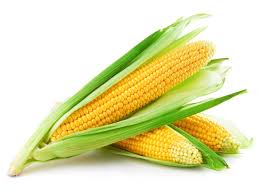 Health Benefits:
Aids in digestion
Helps cure dysentary
Improves hair skin and nails
Increases Sex Hormones & Orgasm
Increases stamina
May reduce risk of Alzheimer
May reduce risk of macular degeneration
Pain reliever
Prevents sinusitis
Provides energy
Reduces risk of bladder cancer
Reduces risk of cervical cancer
Reduces risk of colon cancer
Relieves PMS
Relieves allergies
Nutrition:
Serving size: 1 small ear; Calories: 365; Fat: 4.7g; Cholesterol: 0mg; Sodium: 35mg; Carbs: 74g; Sugars: g; Protein: 9g; Potassium: 8%DV; Vitamin A: 0%DV; Vitamin C: 0%DV; Calcium: %DV; Iron: 15%DV
Did You Know?
Eating corn can reduce your risk of developing anemia! Corn is a rich source vitamin B12, folic acid, and iron - deficiencies in these can cause anemia.
Corn isn't exclusively yellow! It can be produced in various colors, such as black, blue-gray, purple, green, red, and white.
Most countries don't call it corn, but rather "maize."
Ways to Eat:
Farming Trivia:
Corn is produced on every continent in the workd, with the exception of Antarctica.
The United States produces 40% of the world's corn!
The "Corn Belt," where growing conditions for corn are ideal, includes Ilinois, Iowa, Nebraska, Minnesota, Indiana, Ohio, Wisconsin, South Dakota, Michigan, Missouri, Kansas, and Kentucky.