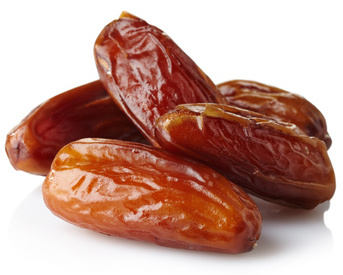 Health Benefits:
Aids in digestion
Aids in red blood cell formation
Anti fungal
Combats fatigue
Helps control LDL cholesterol levels
Increases stamina
Lowers blood pressure
May reduce risk of diabetes
May reduce risk of macular degeneration
Prevents sinusitis
Relieves PMS
Relieves chest infections
Nutrition:
Serving size: 1 date; Calories: 60; Fat: 0g; Cholesterol: 0mg; Sodium: 0mg; Carbs: 18g; Fiber: 2g; Sugars: 16g; Protein: 0g; Potassium: 5%DV; Vitamin A: 1%DV; Vitamin C: 0%DV; Calcium: 2%DV; Iron: 1%DV
Did You Know?
Eating dates during pregnancy can reduce the need for induction.
Studies have found that dates are rich in vitamin B6, which is associated with improved brain performance.
Dates are a staple in the Middle East.
There are at least 15 minerals in dates, containing 23 types of amino acids
Ways to Eat:
Raw
Chutney
Stuffed with almonds
With cottage cheese and pistachios
Dried
With ice cream
Farming Trivia:
The origin of the date is unknown, but they have been cultivated since around 6000 BCE.
Egypt is the largest producer of dates, followed by Iran and Saudi Arabia. The United States, is within the top twenty.
Dates thrive in hot, dry places, so only zones 9 and 11 are conducive to growing the fruit in the United States.