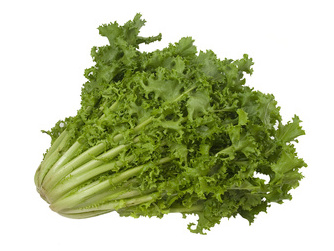 Health Benefits:
Aids in digestion
Aids in weight loss
Fights free radicals
Lowers blood pressure
May reduce cholesterol
May reduce risk of birth defects
Promotes eye health
Nutrition:
Serving size: 1 cup chopped; Calories: 8; Fat: .7g; Cholesterol: 0mg; Sodium: 12mg; Carbs: 1.5g; Fiber: 1.2g; Sugars: .2g; Protein: .8g; Potassium: 4%DV; Vitamin A: 20%DV; Vitamin C: 4%DV; Calcium: 2%DV; Iron: 2%DV
Did You Know?
Escarole is actually a member of the Endive family and its taste is similar to radicchio
As more layers are peeled back, the leaves continue to lighten in shade. As the shade of the leaves lightens, the degree of bitter taste also lessens
The inner leaves are best for raw recipes, outer leaves are best for cooking
Ways to Eat:
Raw
Slightly sauteed
Add to soups
Farming Trivia:
Escarole needs about 1 inch of water per week. Water regularly, because leaves will be tough and bitter if the soil dries out.
Escarole is a member of the leafy chicory family, widely cultivated in England from at least the 1500′s and is a popular green in Sicilian cuisine. The plants were, eventually, brought to America by colonists.