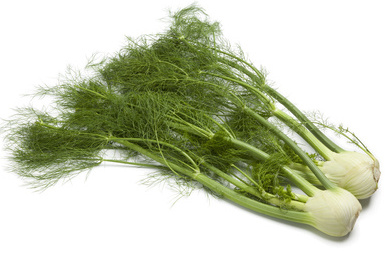 Health Benefits:
Aids in digestion
Aids in red blood cell formation
Anti inflammatory
Anti viral qualities
Fights acne
Fights free radicals
Increases stamina
May reduce risk of Alzheimer
May reduce risk of cancer
May reduce risk of heart disease
Pain reliever
Prevents sinusitis
Promotes healthy gums and teeth
Relieves allergies
Relieves constipation
Nutrition:
Serving size: 1 cup; Calories: 27; Fat: .2g; Cholesterol: 0mg; Sodium: 45mg; Carbs: 6g; Fiber: 3g; Sugars: 0g; Protein: 1.1g; Potassium: 10%DV; Vitamin A: 2%DV; Vitamin C: 17%DV; Calcium: 4%DV; Iron: 3%DV
Did You Know?
Eating fennel while pregnant can reduce the risk of neural tube defects in newborns.
Because of the high iron and histidine content in fennel, it's very helpful for those with anemia.
Because of the electrolytes found in fennel, it's great for brain health! Eating fennel can increase cognitive ability and brain function.
Fennel serves as a pain reliever and relaxing agent for menopausal women.
Ways to Eat:
Sauteed
Steamed
Sliced
In salad
As a spice
Farming Trivia:
Fennel originated in the Mediterranean, where it has been long used for culinary and medicinal reasons - the ancient Greeks knew it by the name "marathon".
The United States, France, India, and Russia are the leading cultivators of fennel.
Fennel grows best in soil between - 50º-77º Fahrenheit; it is harvested in about 20 weeks.