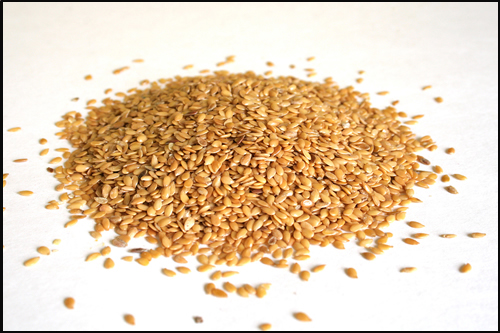 Health Benefits:
Aids in digestion
Anti inflammatory
Combats fatigue
Fights free radicals
Improves hair skin and nails
May reduce cholesterol
May regulate blood sugar
Pain reliever
Reduces risk of breast cancer
Reduces risk of colon cancer
Reduces risk of prostate cancer
Relieves constipation
Nutrition:
Serving size: 1 tbsp whole; Calories: 55; Fat: 4.3g; Cholesterol: 0mg; Sodium: 3mg; Carbs: 3g; Fiber: 2.8g; Sugars: .2g; Protein: 1.9g; Potassium: 2%DV; Vitamin A: 0%DV; Vitamin C: 0%DV; Calcium: 2%DV; Iron: 3%DV 1 Tbsp ground; Calories: 37; Fat: 3.9; Cholesterol: 0mg; Sodium: 0mg; Carbs: 2g; Fiber: 1.8g; Sugars: .1g; Protein: 1.8g; Potassium: 1%DV; Vitamin A: 0%DV; Vitamin C: 0%DV; Calcium: 2%DV; Iron: 2%DV
Did You Know?
Flaxseed is very rich in omega-3 fatty acids, alpha linolenic acid (ALA). Do not contain EPA or DHA found in fish
Excellent source of lignans
In the 8th century, Charlemagne believed in the health benefits of flax so strongly, that he passed laws requiring his subjects to eat it!
Canada has a Flax Council
Start intake slow and build up to prevent bloating
Grind using a coffee grinder otherwise the seeds pass through our bodies
Ways to Eat:
In cereal
In bread or muffin recipes
With vegetables
Farming Trivia:
Flax has been cultivated in Babylon as early as 3000 BCE.
The United States is one of the top ten producers of flaxseed in the world.
There are two ways to harvest flax: using combines, or doing it by hand.