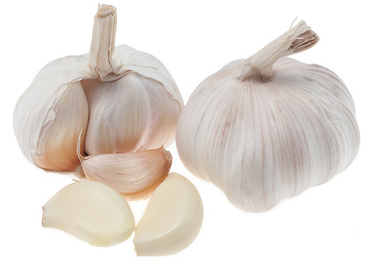 Health Benefits:
Anti bacterial qualities
Anti inflammatory
Anti viral qualities
Aphrodisiac
Fights acne
Helps control LDL cholesterol levels
Increases Sex Hormones & Orgasm
Increases immunity
May reduce risk of cancer
May reduce risk of stroke
May regulate heart rate
Pain reliever
Prevents sinusitis
Provides energy
Relieves PMS
Relieves allergies
Relieves arthritis
Nutrition:
Serving size: 1 clove; Calories: 5; Fat: 0g; Cholesterol: 0mg; Sodium: 1mg; Carbs: 1g; Fiber: .1g; Sugars: 0g; Protein: .2g; Potassium: 0%DV; Vitamin A: 0%DV; Vitamin C: 1%DV; Calcium: 0%DV; Iron: 0%DV
Did You Know?
Garlic has been shown to prevent blood clots and destroy plaque, leading to healthier blood flow and reduce the risk of developing atherosclerosis
Studies have shown that garlic can help prevent the common cold. For those already suffering from a cold, consuming garlic can reduce the amount of time symptoms occur.
Studies have also shown that garlic can inhibit the growth of bacteria which cause tuberculosis; garlic can also protect against intestinal parasites.
Contains compound Allicin produced when garlic is crushed or minced.
Ways to Eat:
Raw
Pureed in hummus
In a sautee
In soup
Farming Trivia:
Garlic is one of the oldest cultivated crops - it was fed to the builders of the Great Pyramid because it was believed to give them strength!
Garlic can be grown year-round in warm climates.
Around 90% of the garlic grown in the United States comes from California!