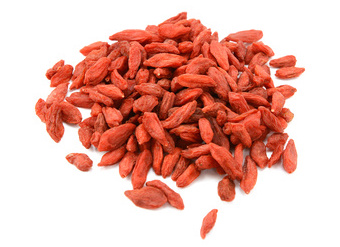 Health Benefits:
Aids in weight loss
Anti bacterial qualities
Anti inflammatory
Fights free radicals
Improves eyesight
Improves hair skin and nails
Increases immunity
Lowers blood pressure
May reduce cholesterol
May reduce risk of diabetes
May regulate blood sugar
Promotes eye health
Provides energy
Nutrition:
Serving size: 1 ounce; Calories: 100; Fat: .5g; Cholesterol: 0mg; Sodium: 105mg; Carbs: 21g; Fiber: 1.4g; Sugars: 13g; Protein: 4g; Potassium: 0%DV; Vitamin A: 0%DV; Vitamin C: 250%DV; Calcium: 2%DV; Iron: 8%DV
Did You Know?
Chinese medicine practitioners commonly use bright red-orange goji berries to treat diabetes and high blood pressure, maintain eye health, and nourish the liver and kidneys.
They are a SUPERFOOD: a nutrient-rich food considered to be especially beneficial for health and well-being.
Ways to Eat:
In a smoothie
Dried
In trail mix
On cereal or oatmeal
In baked goods
Soaked in tea
Farming Trivia:
Goji berries grow on an evergreen shrub found in temperate and subtropical regions in China, Mongolia and in the Tibetan Himalayas.
Goji berries like dry hot days and cool nights.
While the majority of Goji berries found in the US are either dried or juiced, the farming of the fresh berries is picking up steam in many states, like Nevada and California.
Member of the night shade family