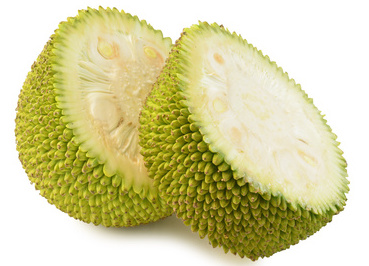 Health Benefits:
Lowers blood pressure
Pain reliever
Relieves constipation
Nutrition:
Serving size: 1 cup cut; Calories: 157; Fat: 1.1g; Cholesterol: 0mg; Sodium: 3mg; Carbs: 38g; Fiber: 2.5g Sugars: 31g; Protein: 2.8g; Potassium: 21%DV; Vitamin A: 3%DV; Vitamin C: 37%DV; Calcium: 4%DV; Iron: 2%DV
Did You Know?
Jackfruit is the largest tree-borne fruit in the world, reaching 80 pounds in weight and up to 36 inches long and 20 inches in diameter
When fully ripe, the unopened jackfruit smells somewhat like decayed onions, while the pulp of the opened fruit smells of pineapple and banana.
Jackfruit is very high in potassium.
Ways to Eat:
Raw
Fry the fruit to make Jackfruit fries
Fry the seeds
Farming Trivia:
Jackfruit is a tropical tree native to western India.
When fully ripe, the unopened jackfruit has a strong sweet odor, and its ripe fleshy bulbs smell of sweet pineapple and banana
Jackfruit trees are best planted when the temperatures are warm. In Florida, they are planted during the spring season