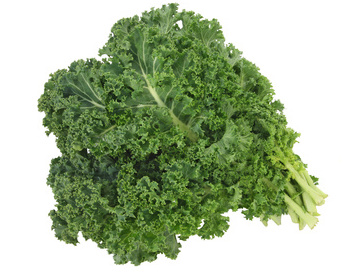 Health Benefits:
Aids in digestion
Aids in weight loss
Anti aging
Anti inflammatory
Anti viral qualities
Combats fatigue
Detoxifying effects
Fights asthma
Fights depression
Fights free radicals
Helps control LDL cholesterol levels
Improves bone and muscle health
Improves eyesight
Improves hair skin and nails
Increases immunity
Increases stamina
Lowers blood pressure
May reduce cholesterol
May reduce risk of Alzheimer
May reduce risk of cancer
May reduce risk of heart disease
May reduce risk of macular degeneration
May reduce risk of osteoarthistis
May reduce risk of urinary tract infections
Provides energy
Reduces risk of bladder cancer
Reduces risk of breast cancer
Reduces risk of colon cancer
Reduces risk of lung cancer
Nutrition:
Serving size: 1 cup chopped; Calories: 33; Fat: .6g; Cholesterol: 0mg; Sodium: 25mg; Carbs: 7g; Fiber: 1g; Sugars: 0g; Protein: 2.9g; Vitamin A: 133%DV; Vitamin C: 134%DV; Calcium: 10%DV; Iron: 5%DV
Did You Know?
Kale is a popular vegetable, a member of the cabbage family (Brassica oleracea).

It is related to cruciferous vegetables like cabbage, broccoli, cauliflower, collard greens and brussels sprouts.

There are many different types of kale.

The leaves can be green or purple in color, and have either a smooth or curly shape

Kale has more calcium per calorie when compared to a glass of milk!
Researchers can now identify over 45 different flavonoids in kale.
Containsphytochemicals sulforaphane and indole-3-carbinol
Ways to Eat:
Steamed
Raw
Juiced
Blended in a smoothie
Sauteed
Boiled
Baked as kale chips
Farming Trivia:
During World War II, the cultivation of kale in the U.K. was encouraged by the "Dig for Victory" campaign. The vegetable was easy to grow and provided important nutrients to supplement those missing from a normal diet because of rationing

Kale is a great choice for people who avoid dairy products; it contains 12% of the Daily Value for calcium, which plays a role in bone and teeth health.
Kale can be planted during the cooler seasons such as late spring or fall.
Most of the kale in the U.S, is grown in California.