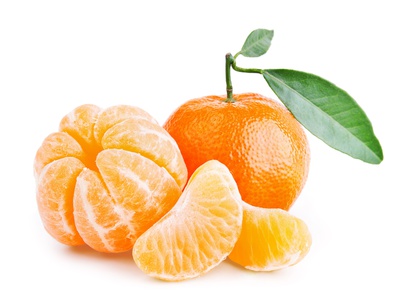 Health Benefits:
Aids in digestion
Aids in weight loss
Anti aging
Fights acne
Fights depression
Fights free radicals
Improves bone and muscle health
Improves eyesight
Improves hair skin and nails
Lowers blood pressure
May reduce risk of cancer
May reduce risk of heart disease
May reduce stress
May regulate heart rate
Promotes heart health
Protects skin from UV rays
Relieves constipation
Nutrition:
Serving Size 1 small; Calories: 40;Total Fat: 0.2g; Sat. Fat: 0.1g; Cholesterol: 0mg; Sodium: 2mg;Total Carbs: 10.1g; Fiber: 1.4g; Sugars: 8g; Protein: 0.6g; Potassium: 2%; Vitamin A: 10%DV; Vitamin C: 34%DV; Calcium: 3%DV; Iron: 1%DV
Did You Know?
A ripe mandarin is firm to slightly soft, heavy for its size, and pebbly-skinned.
Mandarins are like oranges, rich in vitamins such as vitamins.. The vitamin C found in mandarin is useful in combating unstable molecules otherwise known as free radicals.
Mandarins reduce aging signs like wrinkles, fine lines and blemishes. This is due to the presence of anti-oxidants which protect the skin from UVA rays.
Clementine, Tangor and Satsuma, Owari are some of the most commonly available mandarin oranges.
Ways to Eat:
Raw and peeled

Add it to a fresh fruit salad.
Stir them into a bowl of oatmeal or a carton of low-fat plain yogurt.
Combine with diced mangoes, minced red onion and lime juice for a tasty fruit salsa that pairs well with grilled chicken or pork chops.
Drizzle with honey and sprinkle them with cinnamon.
Dip clementine segments into melted dark chocolate to make a nutritious dessert
Farming Trivia:
Mandarins originated in China, hence the name. China is by far the largest grower and consumer in the world, with over 12 million tons harvested each year.