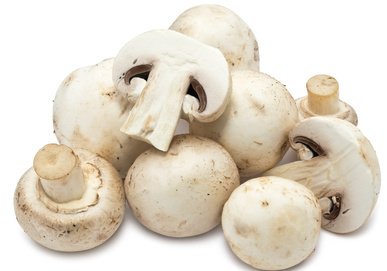 Health Benefits:
Anti viral qualities
Detoxifying effects
Helps prevent night blindness
Increases immunity
Increases stamina
Inhibits cancer cell growth
Lowers blood pressure
May reduce anxiety
May reduce cholesterol
May reduce fever
May reduce risk of cancer
Prevents sinusitis
Provides energy
Nutrition:
Serving size: 1 cup diced; Calories: 19; Fat: .3g; Cholesterol: 0mg; Sodium: 8g; Carbs: 3.3g; Fiber:1g; Sugars: 2.2g; Protein: 1.8g; Potassium: 8%DV; Vitamin A: 0%DV; Vitamin C: 0%DV; Calcium: 0%DV; Iron: 1%DV
Did You Know?
Mushrooms are one of the richest, natural sources of selenium, an essential mineral which strengthens the immune system and may help reduce the risk of cancer and other chronic illnesses.
Mushrooms are best stored unwashed in brown paper bags in the refrigerator, preferably on the lowest shelf.
Ways to Eat:
Sauteed
Grilled
Stuffed
In risotto and omelets
Blended and mixed with meat
Farming Trivia:
Under the right conditions, some mushrooms' spores can sit dormant for decades or even a century, and still grow!
One portabella mushroom has more potassium than a banana
Mushrooms can be planted and grown year round