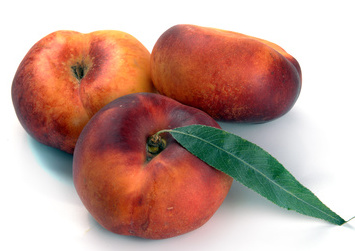 Health Benefits:
Aids in digestion
Fights free radicals
Improves eyesight
Improves hair skin and nails
May reduce risk of cancer
Prevents sinusitis
Protects skin from UV rays
Provides energy
Nutrition:
Serving size: 1 fruit; Calories: 59; Fat: .4g; Cholesterol: 0mg; Sodium: 0mg; Carbs: 14g; Fiber: 2.3g; Sugars: 13g; Protein: 1.4g; Potassium: 8%DV; Vitamin A: 9%DV; Vitamin C: 16%DV; Calcium: 0%DV; Iron: 2%DV
Did You Know?
Nectarines come from the same family as the rose and are also related to the almond.
Nectarines are a fuzzless variety of peach. They are not a cross between a peach and a plum.
Ways to Eat:
Raw
Baked
Sauteed
In a pie or tart
On a salad
In oatmeal or yogurt
Farming Trivia:
California grows over 95% of the nectarines produced in the United States.
Occasionally when peach trees are crossed or even self pollinated they will produce some fruit whose seeds will grow into nectarine trees and others which will be peach trees.
Nectarines can be planted and grow best during the spring/summer seasons