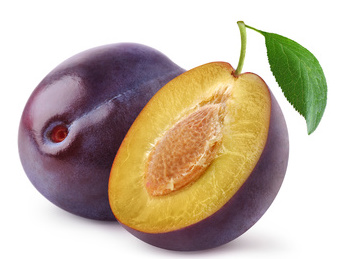 Health Benefits:
Aids in digestion
Aids in weight loss
Anti aging
Anti inflammatory
Fights free radicals
Improves bone and muscle health
Improves eyesight
Improves hair skin and nails
Increases immunity
Increases stamina
May reduce cholesterol
May reduce risk of cancer
May reduce risk of heart disease
May reduce risk of macular degeneration
Promotes heart health
Relieves arthritis
Relieves constipation
Nutrition:
Serving size: 1 fruit; Calories: 30; Fat: .2g; Cholesterol: 0mg; Sodium: 0mg; Carbs: 8g; Fiber:1g; Sugars: 7g; Protein: .5g; Potassium: 2%DV; Vitamin A: 4%DV; Vitamin C: 10%DV; Calcium: 0%DV; Iron: 0%DV
Did You Know?
Plums rank among the top 10 fresh fruits with the most antioxidant potential.
At least 2,300 people in the U.S. are listed on whitepages.com with the last name "Plum."
Wash plums in cold running water just before using. Fresh ripe plum can be enjoyed as is, with its peel.
Prunes are dried plums.
Plums and prunes are known for their laxative effect.
Ways to Eat:
Raw
Dried
Baking Ingredient

juices
jellies
marmalades
cakes
Farming Trivia:
Plums are related to the cherry and are members of the rose family
Plums can be as large as a baseball or a small as a cherry.
Plum usually grows 10 to 20 feet in height and develops the crown of the same dimensions.
There are more than 200 varieties of plums in Australia