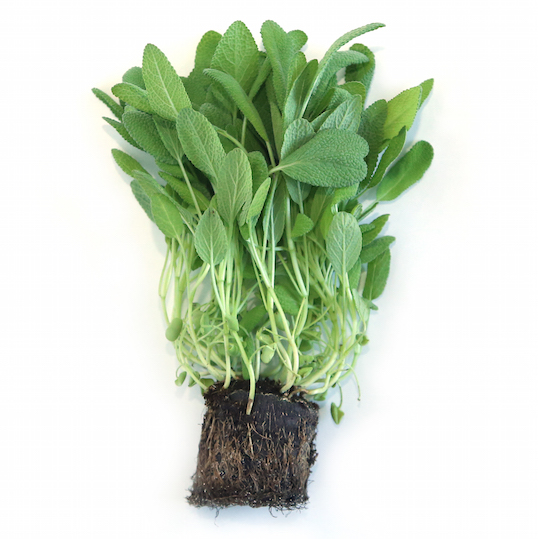 Health Benefits:
Aids in digestion
Anti bacterial qualities
Anti viral qualities
Combats fatigue
Helps control LDL cholesterol levels
Improves eyesight
Improves memory
May reduce stress
Promotes eye health
Promotes healthy gums and teeth
Relieves bloating
Relieves cold sores
Relieves cramps
Relieves heartburn
Relieves indigestion
Relieves sore throat
Nutrition:
Serving size: 1 tbsp ground; Calories: 6; Fat: .3g; Cholesterol: 0mg; Sodium: 0mg; Carbs: 1.2g; Fiber:0g; Sugars: 0g; Protein: .2g; Potassium: 0%DV; Vitamin A: 2%DV; Vitamin C: 1%DV; Calcium: 3%DV; Iron: 3%DV
Did You Know?
Sage can dry up phlegm, and you can gargle with the tea to treat coughs and tonsil or throat infections.
Sipping cold sage tea is a traditional remedy for menopausal problems such as sweating, hot flushes and headaches.
You can squeeze the juice from fresh leaves or even just rub leaves onto the area to soothe insect bites.
Sage is native to the Mediterranean, belonging to the Lamiaceae (mint) family along with oregano, lavender, rosemary, thyme and basil.
Sage is described as having a warm, almost minty taste; that is somewhat bitter. It is a pungent herb that is most traditionally paired with meat or meat accompaniments, such as stuffing or sauces. Most people are familiar with the taste of sage in sausage; however, it can be used in a wide variety of dishes.

Ways to Eat:
As a seasoning
Steeped in a tea
Fried in oil to garnish recipes
Pair sage with some of the ingredients suggested below:
Vegetables: artichoke, butternut squash, celery, fennel, mushroom, potato, sweet potato, tomato
Seafood: clam, oysters, salmon, scallops, shrimp, tilapia, trout
Meat and Poultry: bacon, boar, chicken, pork, prosciutto, steak, turkey, and veal
Soups and Sauces: bean, butternut squash, gravy, mushroom, potato, pumpkin, stock, tomato, vegetable
Dairy: blue, cheddar, fontina, goat, gorgonzola, and Parmesan cheese, cream, poached eggs
Legumes and Grains: herbed breads, pasta, risotto, stuffing, white beans or cannellini beans
Fruit and Dessert: apple, apricot, fig, grape, lemon, pear, plum, rhubarb
Herbs and Seasoning: arugula, bay leaves, chives, nutmeg, rosemary, thyme
Farming Trivia:
Native to the Balkan and Mediterranean, sage is a member of the mint family and its bluish-purple flowers and greyish-green leaves.
The ancient Greeks and Romans first used sage as meat preservative as well as a memory enhancer.
Sage has been used for hundreds of years and is known for its culinary and medicinal uses.
It became a commonly used herb throughout Europe during the Middle Ages and it was sometimes referred to as "Sage the Savior" because if its healing properties.