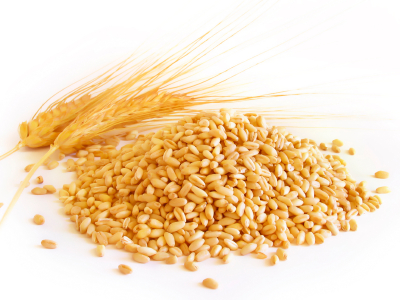 Health Benefits:
Aids in digestion
Anti fungal
Nutrition:
Serving size: 1 cup; Calories: 651; Fat: 4.7g; Cholesterol: 0mg; Sodium: 4mg; Carbs: 137g; Sugars: 0g; Protein: 26g; Potassium: 23% DV; Vitamin A: 0%DV; Vitamin C: 0%DV; Calcium: 6%DV; Iron: 37%DV
Did You Know?
More than 17,000 years ago, humans gathered the seeds of plants and ate them. After rubbing off the husks, early people simply chewed the kernels raw, parched or simmered
Wheat is the primary grain used in U.S. grain products approximately three-quarters of all U.S. grain products are made from wheat flour
A bushel of wheat makes about forty-five 24-ounce boxes of wheat flake cereal
Species include durum, spelt, common wheat, einkorn
In most food products 40% (outer brown layer) is removed in processing.
Ways to Eat:
Farming Trivia:
Wheat was first planted in the United States in 1777 as a hobby crop
Wheat is grown in 42 states in the United States
U.S. farmers grow nearly 2.4 billion bushels of wheat on 63 million acres of land