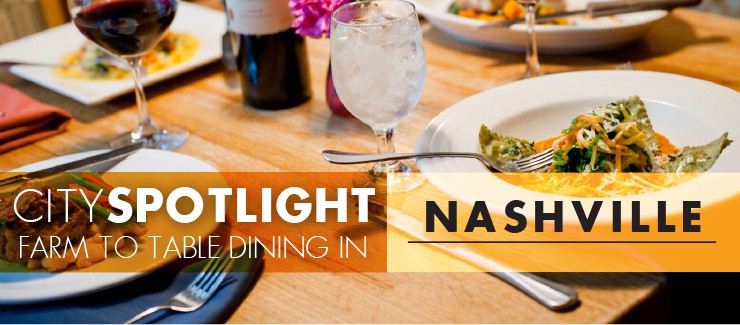 Nashville is known as the city of country music and authenticity. If you're in the heart of Tennessee, be sure to check out these farm-to-table gems that serve up that aesthetic in both style and flavor. These spotlight locales deliver classic Southern cuisine like spicy Nashville chicken and fried okra, but they're keeping it fresh by supporting local farms and purveyors. Restaurants like these are also hand-making everything down to the bread and gelato.
Why pick between mouth-watering deliciousness and the environment? The Old School Nashville uses local farmers, and they encourage sustainability with environmentally conscious practices, like using scraps for composting on the farm. That's right, this restaurant is on nine acres of farmland, and they're a leading member of the Nashville food waste initiative. Enjoy ever-changing dishes crafted by Chef Kristie Harris that are locally sourced and veggie centric (with gluten free and allergy sensitive options). You might relax to bands in a speakeasy style room or try out goat yoga in their restored 1936 schoolhouse. They make their own bread in-house! Proceeds from their bakery fund their non-profit CSA farm that trains individuals with intellectual disabilities for jobs.
(615) 336-0100 | 5022 Old Hydes Ferry Pike, Nashville, TN 37218
This high-end culinary adventure was opened in 2012 by Chef Deb Paquette, who holds accolades for Nashville's best chef and best restaurant multiple times. She wanted her "creative best" to culminate here, drawing together her favorite local and global spices, produce, and recipes. After only a year of being opened, they had to expand and add a dining room. They offer a private room, full bar, and open kitchen where you can interact with the chef and her staff while you sip a classic cocktail or beer.
(615) 522-0685 | 303 Demonbreun St, Nashville, TN 37201
Located in the bottom of the encore tower in downtown Nashville
Adele's is open for dinner every day in downtown Nashville. They boast seasonal comfort food that reaches their tables fresh from local farms and purveyors. You'll find the kitchen open to the dining room with access to the chef's counter as well as a large fireplace grill and a wood burning oven. On Fridays and Saturdays, feel free to stop by for lunch, and if you're up early on Sunday, they roll out a special brunch menu. During October, be sure to order from the Breast Cancer Awareness menu to help raise money for the Vanderbilt-Ingram Cancer Center!
(843) 822-2252 | 1210 McGavock St, Nashville, TN 37203
Milk and Honey is a unique fresh-mex eatery. They offer tantalizing appetizers like Burrata & Fig or Ricotta & Honey, fresh salads, homemade soups, and smoked meats. As you sip custom cocktails and craft beers, you can play on their ping pong boards, foosball, or shuffleboards. And to top all their scrumptious choices off, they craft homemade gelato. The relaxed atmosphere is completed with their 'sweets and treats' and their juice bar. If you're thinking a place like this must be busy, a reviewer confidently advises, "It's worth the wait!"
(615) 712-7601 | 214 11th Ave S, Nashville, TN 37203
While closed for renovations at the time of writing, Silo's makes the list for when they reopen. That's because they bring the heart of country to both the table and the stage. And if you're craving that hot chicken Nashville is known for, look no further. Silo's is a pioneer in the food scene because they were one of the very first seasonally focused kitchens to open in 2012, ensuring freshness, authentic cuisine, and support to local farmers. A bold, modern take on southern cuisine, they offer small plates for sharing and trying. Owner Clay Greenberg explains that he just wanted a restaurant that was thoughtful of the environment and experience. The next time a band plays, you can also grab a carefully curated wine or handcraft cocktail—maybe during happy hour!
(615) 750 -2912 | 1121 5th Ave N, Nashville, TN 37208
The Cafe at Thistle Farms boasts a lively and inspiring atmosphere where your mind and spirit can come to rest. Yes, it's delicious and reasonably-priced, and yes, they serve locally sourced breakfast and lunch and ethically sourced tea and coffee. But even more impressive is their aim to heal, empower, and employ survivors of trafficking, prostitution, and addictions. These amazing women work at the cafe in the revitalized Charlotte Pike Corridor. There you'll find a full service menu stocked with produce from a variety of Tennessee farms and makers like Misty Hills Farm, Long Hungry Creek, Just Love Coffee, and so many more. They also manufacture and sell natural beauty and bath products!
(615) 953-6440 | 5122 Charlotte Ave, Nashville, TN 37209
---