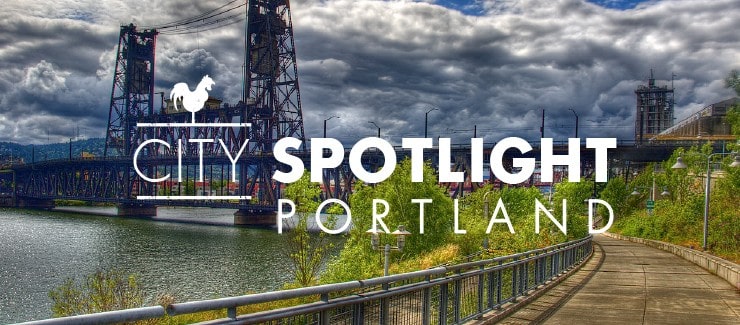 Considered one of the hipster capitals in America, probably thanks to the absurdists television show Portlandia, Portland's laid-back Pacific Northwest eccentricity pulls visitors from all walks of life. While the city showcases some strange and unusual attractions, like a witch's castle and Shanghai tunnels, Portland's take on farm-to-table eateries is its own spectacular attraction.
Clarklewis
Since 2003, Clarklewis has been the standard-bearer for the farm-to-table food movement in Portland. The philosophy has been rigorously maintained by Bruce Carey and Chef Dolan Lane since they took over the operation in 2007. Clarklewis creates delicious handcrafted Northwest cuisine with Italian and French influences, and proudly supports local, organic farms.
503-235-2294
1001 SE Water Ave. Eastbank Commerce Center, Portland, OR 97214
Dove Vivi
Dove Vivi serves hand-crafted cornmeal crust pizza with all the appropriate, locally-sourced accompaniments. The crust is prepared by hand using organic cornmeal sourced from Southeast Oregon and Northeast California, which is then stone-ground at Bob's Red Mill in Portland. Dove Vivi also uses sustainably grown Shepherd's Grain flour, a progressive alliance of family farms local to the Northwest, and 100 percent pure olive oil. All toppings are prepared in-house daily using fresh, locally sourced produce whenever possible. Dressings, marinades, and brines are made from scratch to celebrate the loot of their locale.
503-239-4444
2727 NE Gilsan St. Portland, OR 97232
Ned Ludd
This restaurant pays homage to their European roots through their unique, fresh selections of food and drink. For Ned Ludd, each dish is an explosion of flavor created by the hand chosen seasonal ingredients. The have a brick faced, wood fired oven that stands as the center of their endeavor.
503-288-6900
Address: 3925 NE Martin Luther King Jr Blvd. Portland, OR 97212
Olympia Provisions
The old world makes a grand reappearance at Olympia Provisions. From a first generation Greek-American, Chef Elias Cairo has perfected the art and science of salami; his restaurant becoming Oregon's first USDA-approved salumeria. Chef Cairo understands the importance of fresh ingredients that allow their food to embody a "vibrant yet gentle flavor."So if you're looking for dinner or for your next unique gift, Olympia Provisions is the place for you.
503-954-3663
107 SE Washington St. Portland, OR 97214
The Picnic House
The New American cuisine has become a local favorite in Portland's growing culinary scene. For lunch they serve fresh soups, salads, and sandwiches while dinner brings unmatched sophistication. Their seasonal picks shine through in their veggie-forward share plates everyone can enjoy
503-227-0705
723 SW Salmon St. Portland, OR 97205
The Country Cat
At The Country Cat Dinner House & Bar, American craft cooking is truly at its prime. The unique interpretation of the country's ever-evolving culinary heritage yields a conversation-starting, made from scratch farm-to-table menu. This cozy and soulful restaurant is nestled in southeast Portland's rather unexpected Montavilla area, allowing a restaurant environment that serves the community first. The seasonally-focused menu represents the best local offerings from surrounding markets; in fact, 65 percent of their produce is hand-picked from the farmer's market.
503-408-1414
7937 SE Stark St. Portland, OR 97215
---