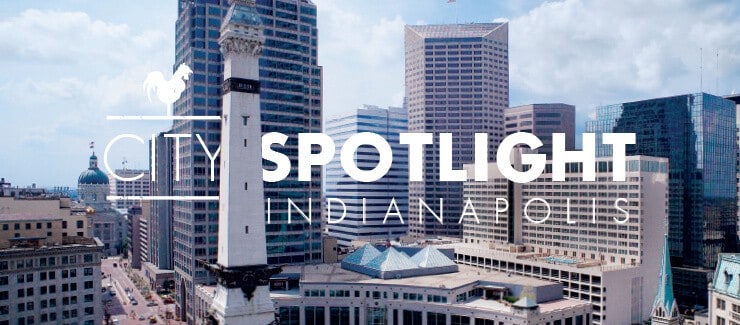 Indianapolis, affectionately called "Indy," may be widely known for hosting one of the largest sporting events in the nation, the Indy 500, but, according to recent Forbes article "6 Great Reasons To Visit America's Most Underrated City Right Now," there is more to this city than just very fast cars. A flourishing culinary and brew scene is quickly gaining acclaim.
Our Indy dining list is based on farm-to-table eateries that are taking advantage of the best ingredients being grown in the state's "backyard."
Also entitled "a student union for adults" and run by Patachou Incorporated, this restaurant has been a local institution since 1989. Recognized early on as one of Bon Appetit's "Our Ten Favorite Places for Breakfast in the Nation," this Indianapolis staple is dishing out top notch dishes featuring locally sourced produce and proteins from local farms and producers within 100 miles—a prominent list that can be found on their online menu. Six locations, including one at the Indianapolis International Airport, is a testament to their passion for premium ingredients. Other Patachou Inc. restaurants include Napolese, Petite Chou: Bistro and Champagne Bar, Public Greens, Crispy Bird, and One Fourteen.
317.925.2823 / 4901 N. Pennsylvania St., Indianapolis, Indiana 46205
This local eatery and fresh juicery has two locations in designated Indianapolis cultural districts. While the Broad Ripple location only serves a brunch menu, their Mass Ave location boasts a brunch, dinner, and bar menu. Either way, you can't go wrong because they believe in simple dishes, made from natural ingredients, grown and harvested by local framers. That means that their kitchen changes ingredients daily based on seasonality and availability. Their juices, a mixture of raw fruits and vegetables, herbs and superfoods, are full of vitamins, micronutrients, live enzymes, and minerals.
Broad Ripple: 317.737.2531 / 908 e westfield blvd, indianapolis, in 46220
Mass Ave: 317.638.0321 / 342 massachusetts ave., indianapolis, in 46204
Located on the Traders Point Creamery grass-fed dairy farm, The Loft restaurant follows the food they serve from pasture to plate with a strong emphasis on organic. Many of the ingredients—garden-fresh produce, artisan cheeses, organic dairy products, grass-fed beef and pastured pork—travel just a short distance from the farm's land to the kitchen. The rotating menu reflects this dedication to raising and serving food in harmony with the land. Dishes rotate with the seasons and are perfectly paired with organic or sustainable wines and beer. The Loft also offers a Dairy Bar with fresh, homemade, whole milk ice cream!
317.733.1700 / 9101 Moore Rd., Zionsville, IN 46077
This modern American brasserie features handcrafted, freshly made artisan foods, locally crafted ales and cocktails made with all-natural or organic ingredients. A true farm-to-table driven restaurant, The Local Eatery & Pub supports local farmers, works to be a socially and environmentally responsible business, and is in the process of receiving a Green Restaurant certification! Menus change often to reflect what's fresh, current and in season and are full of enticing and satisfying comfort foods with some more interesting fare (like roasted bone marrow or seared pork trotter terrine) for adventurous diners.
317.218.3786 / 14655 N Gray Rd., Westfield, IN 46062
#5 Pure Eatery
Located in the heart of Indianapolis' Historic Fountain Square district, Pure Eatery is dedicated to providing fresh, honest food using locally grown and produced ingredients whenever possible. The restaurant features work from local artists and local providers like the Amazing Potato Chip Co. and Fountain Square Brewing Co. Pure also works to minimize their impact on the environment by recycling, offer biodegradable to-go wares and partnering with Indy Couriers to deliver to-go orders via bicycle!
317.602.5724 / 1043 Virginia Ave., Indianapolis, IN 46203
---