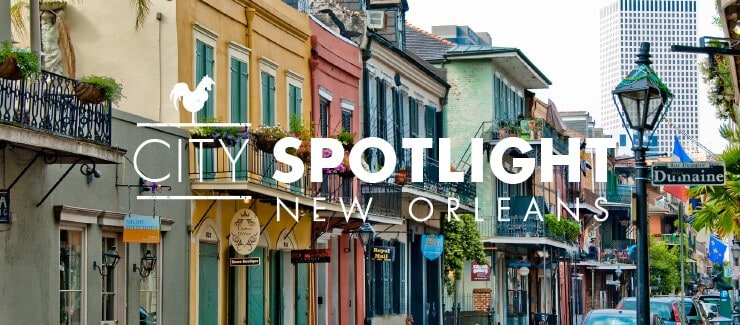 One doesn't merely travel to New Orleans without spending most, if not all, of their time and money on dining. With a maze of culinary delights, each historical block of America's most outspoken port city is ready to grab passerbys with a jamboree of unique flavors. The following restaurants stay true to the ethos of the farm-to-table movement, made simpler with the proximity of the Gulf. When it comes to food, don't go easy in the Big Easy!
Inspired by Chef John Besh's Louisiana roots and European training, August serves contemporary French cuisine made with fresh, local ingredients. Housed in a historic 19th century French-Creole building paneled with rich mahogany, August offers an ever-changing array of delicious and decadent dishes for diners to enjoy, from handmade Louisiana blue crab and black truffle potato gnocchi to Mississippi beef strip with roasted plums and fresh cheese malfatti salad.
(504) 299-9777 | 301 Tchoupitoulas Street, New Orleans, LA 70130
Sourcing from local Gulf fishermen, Basin Seafood serves modernized, lighter and reimagined versions of traditional Louisiana dishes such as shrimp remoulade and smoked snapper croissant for lunch as well as an oyster bar, black drum andouille sausage jambalaya, and crawfish beignets. Offering lunch and dinner service Monday through Thursday, Basin recently began opening on Mondays for dinner due to popular demand.
(504) 302-7391 | 3222 Magazine St. New Orleans, LA 70115
Focused on creating the freshest meals with the best local ingredients, Bayona is a long-time practitioner of the slow-food movement and draws influence for their daily specials from Mediterranean, Asia, North Africa, France, Spain, Italy, and America. Cozy up in the intimate 200-year old French Quarter Cottage and enjoy meals including veal sweetbreads with sherry mustard, and Covey Rise Farm duck breast & confit crepe with date molasses and pistachios.
(504) 525-4455 | 430 Dauphine St. New Orleans, LA 70112
The High Hat Cafe is a casual neighborhood spot serving food from the Mississippi Delta and Louisiana. Catfish is the star of this menu, with strong support from Smoked Roasted Chicken, Delta Tamales, BBQ Shrimp, Slow Roasted Pork, and Fresh Gulf Fish. Only serving U.S. farm raised catfish and shrimp and gulf fish from local waters, High Hat Cafe is a must-visit if you're in New Orleans!
(504) 754-1336 | 4500 Freret St New Orleans, LA 700115
Located in the heart of New Orleans, MoPho promises to excite with their Asian Fusion tastes. Chef Michael Gulotta brings Southeast Asian flavors to Southeast Louisiana culture in a way that will make your taste buds explode and your heart race. The laid-back, casual demeanor of this restaurant contrasts with the striking and exciting flavors it boasts, leaving you with a full belly and a craving for more.
(504) 482-6845 | 514 City Park Ave New Orleans, LA 70119
---