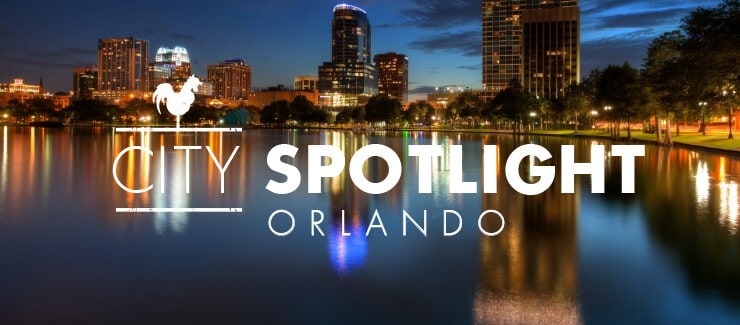 Orlando, Florida may boast the most magical place on earth—the Magic Kingdom theme park at Walt Disney World—but magical dining options abound outside the spaces of wild rides like Disney's Pirates of the Caribbean and grand escapes like Universal's Harry Potter World. Turn your vacation into a food-cation, and find your fun amid the following selection of farm-to-table culinary rides.
Creative kitchen and bar (with an a all day happy hour to enjoy). Intriguing flavors with a global influence. This American inspired eatery creates unique dining experiences, serving breakfast, lunch, and dinner. Dishes are always inspired by the freshest seasonal ingredients, resulting in changing menus. A casual and spacious dining room, along with a comfortable bar and lounge, outdoor dining, and private wine room, creates a beautiful, yet, relaxed dining room, perfect for anyone just looking for a delicious meal.
407.730.7499 / 22 E Pine Street, Orlando, FL 32801
European roots and locally sourced, this offbeat-named restaurant was inspired by the gastropub movement. Kathleen Blake and her team have opened an American hybrid with an emphasis on local farmers and food purveyors. The proof hangs on the walls! Walking in, photographs showcasing the root source of their ingredients such as pigs from Jim Wood's Palmetto Creek Pork in Avon Park and rumpled-shouldered hydroponic tomatoes from Melanie Corun and Roger Worst's Waterkist Farm. Whether it's breakfast, lunch, or supper, anytime is a great time to enjoy a meal at the Rusty Spoon!
407.401.8811 / 55 W. Church St. Orlando, FL 32801
#3 The Strand
Conceived as a small neighborhood restaurant with the purpose of becoming an everyday tradition in the area, the restaurant features contemporary interpretations of classic culinary fare. Their menu features fresh, seasonal ingredients from local farms, priding themselves in bringing the neighborhood together with good food and memorable experiences. Making all if its dishes from scratch means that their menu is constantly evolving to reflect what is available to their kitchen and what they believe will taste best for their customers.
407.920.7744 / 807 N Mills Ave Orlando, FL 32803
Aside from the classic cocktail, a highball is a train conductor's signal to depart at full speed. It was how Central Florida's abundant harvests moved from field to table, an iconic symbol of the region's agricultural might. Highball & Harvest (H&H) pays homage to this legacy. Menus are laden with ingredients from local farms and the restaurant imparts in green-growing efforts. Ultimately, guests at H&H will enjoy a farm-to-table southern culinary adventure that is as inspiring as it is memorable.
407.393.4422 / 4012 Central Florida Parkway Orlando, FL 32837
#5 La Luce
This Italian farm-to-table restaurant provides a major incentive for staying at the lovely Hilton Orlando Bonnet Creek. Chef and Restaurateur Donna Scala is passionate about her creations and only uses the freshest, finest raw ingredients from local purveyors as well as vegetables from the restaurant's gardens. You will be delighted to know that the Scalas produce and use their own olive oil! Enjoy hearty pastas, filling pizzas, and revel in their Trattoria-style wine program. Their freshly sourced Italian favorites will warm your belly and soul.
407.597-3600 / 14100 Bonnet Creek Resort Ln. Orlando, FL 32821
---