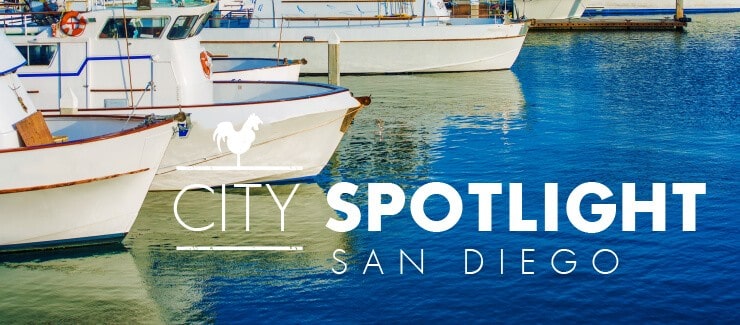 Anytime is a good time to savor in the San Diego sun – you can't beat that weather, folks! Known for being one of America's Finest Cities, you can expect fine dining as well. Thanks to the Pacific coast line and the city's close proximity to Mexico, San Diego is abundant in exceptional produce.
It's Mediterranean-like climate makes it an ideal place to grow agricultural crops as well as livestock products. More than 5,500 farmers call the city home, many of which make their living on small family farms. Restaurants all over the city are pushing to make it a restaurant scene full of international cuisines, outstanding chefs, and all while supporting local makers and more. What are we most excited about? Of course, the outdoor dining options – hello, patio weather!
Take a peak at our latest suggestions for your fine dining experiences.
#1. The Red Door
Farm to table in every sense of the word, the owners of The Red Door Restaurant and Wine Bar are committed to the idea of sustainable eating and sourcing local foods. Owner Trish Watlington's personal garden is where you can find the fruits and the vegetables used in The Red Door's dishes; for everything that she doesn't produce herself it is sourced from a local vendor. This local approach to food means everything served at The Red Door is fresh and seasonal.
Phone: (619) 295-6000 /Address: 741 West Washington Street San Diego, CA 92103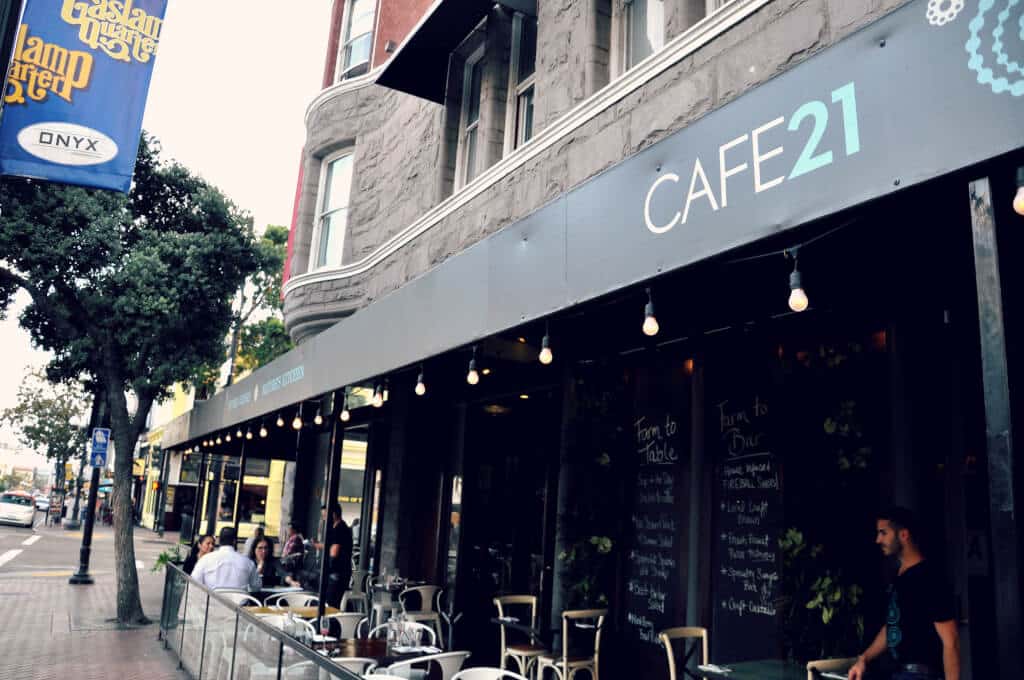 Photo courtesy of Cafe 21
#2. Cafe 21
Where can you find delicious world class dinner crepes and tantalizing drinks like Strawberry Basil Sangria's, sprinkled with a little local love? Cafe 21 is a San Diego favorite and makes our pick for expanding horizons while keeping it local. The idea started when Alex asked his wife Lela to bake a plate of baklava for one of their friends who owned a restaurant. The lucky recipients of her baking loved it so much they began asking for more and more. So much to the point Alex and Lela's kitchen became a busy full blown bakery. And thus the incentive was born, to open up their very own restaurant and cafe. Now, Cafe 21 is one of the best cafes around that showcases world flavors using the best ingredients from local farmers markets.
Phone: (619) 795-0721 / Address: 750 5th Ave San Diego, CA 92101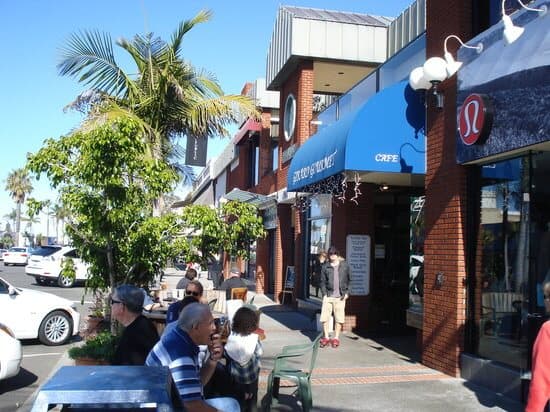 Photo courtesy of Girard Gourmet
#3. Girard Gourmet
Girard Gourmet
is a staple in the La Jolla, San Diego dining scene, having served savory dishes and sweet treats to San Diegans for nearly thirty years. Owner
Francois Goedhuys
, grew up on a small farm in Belgium where cultivating your own garden was a way of life. He was so inspired by this approach that he decided to open his very own sprawling one acre farm in Julian, California, where most of the produce for
Giard Gourme
t is sourced. The restaurant recycles all of the leftover kitchen scraps back into the farm, furthering their specialized process.
Girard Gourmet
has been featured in famed travel guide books, Lonely Planet and Frommer's, as one of La Jolla's "must-eat" destinations as well as publications to include National Geographic Traveler, San Diego Home and Garden and VIA Magazine.
Phone: (858) 454-3321 / Address: Girard Plaza, 7837 Girard Ave, La Jolla, CA 92037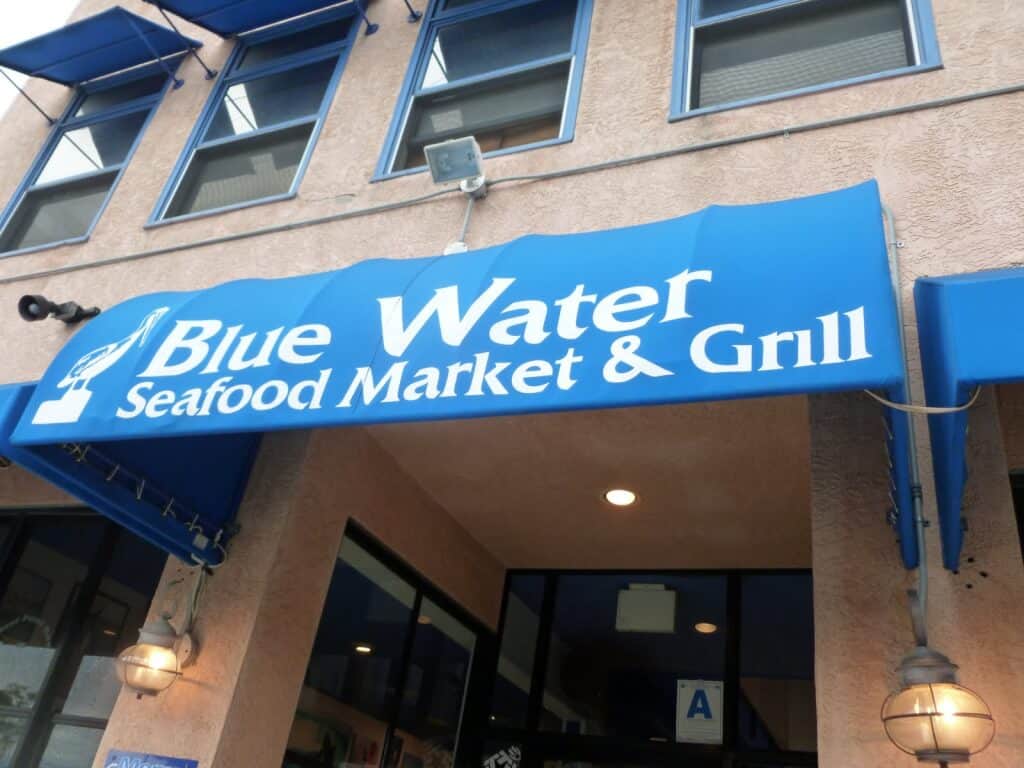 Photo courtesy of Bluewater Grill Seafood Restaurant
#4. Bluewater Grill Seafood Restaurant
Everyone loves a great fresh fish dish and at Blue Water Grill, you will only get the best. Whether you are on the go or have the time to enjoy the catch of the day, at Blue Water Grill, you'll get it exactly how you want it. The variety is vast so try something new! Everything from local spiny lobsters, swordfish to Mako sharks can be found on the menu. Run by two brothers in a local food market, your choice of freshly caught fish can be served on a plate with salad and seasoned steamed rice, or in a sandwich prepared and seasoned however you like. We recommend you try some freshly pickled ceviche or their famous fish tacos!
Phone: (619) 497-0914 / Address: 3667 India St San Diego, CA 92103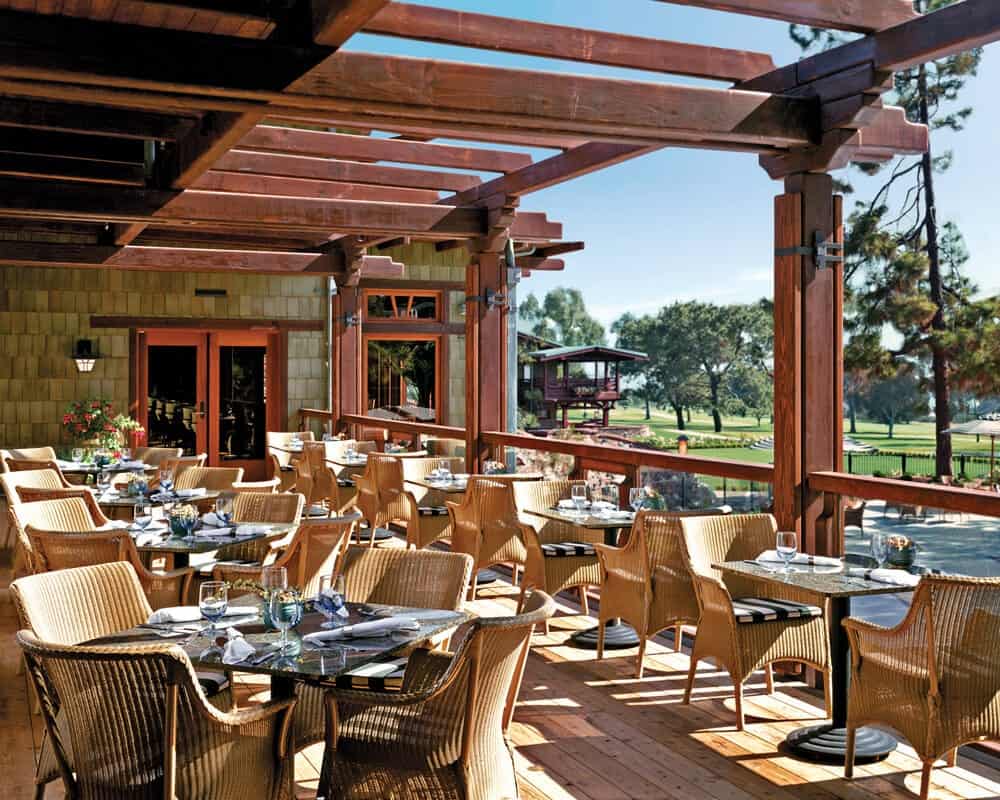 Photo courtesy of A.R. Valentien
#5. A.R. Valentine
Art, food, and the rich history of California are married together in a magnificent setting reflective of the state's landscape. Rated asone of America's Top Restaruants byZagat, A.R Valentien is a hotel gem. Surrounded by indigenous craftsman style architecture, you will enjoy an elegant and intimate dining experience that you will never forget. Here, the emphasis is placed on basic ingredients and food is prepared with minimal handling. The wine selection compliments the menu's regional focus. Cheers!
Phone: (858) 453-4420 / Address: A.R. Valentien, 11480 North Torrey Pines Rd. La Jolla, CA 92037
---