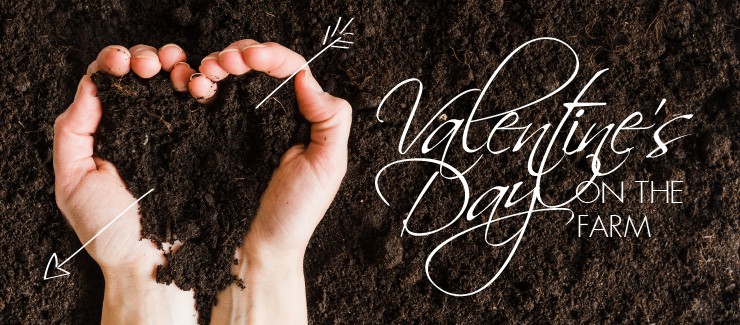 We're going to be honest with you: any common schmuck is capable of stopping by the corner drugstore for roses and then pulling up to the local Olive Garden. Why settle for ordinary, though? We bet you want this Valentine's to feel romantic, unique, and just a bit adventurous!
This is why we've carefully picked seven farms from around the country that you and your partner can spend a splendid Valentine's at, whether it's just for a day or the whole weekend. Don't see an option nearby? Check out our exclusive Farm Finder for even more options.
Mike's Farm in Ozark, Arkansas
This family owned and run farm set out to create a warm and wholesome family atmosphere. To accomplish this, they have a restaurant, bakery, gift shop, dinner shows, and events all throughout the year. A special addition was "The Barn," a wedding and event venue, so you can simply imagine the romantic and gorgeous scene that this farm can provide this Valentine's Day.
They're hosting a "Valentine's Day Dinner Show." Love songs will play while home southern cooking is provided in an all you can eat buffet! Then, a special performance by Gaylon Pope & SweetWater will start after. Tickets are only $35, so be sure to check it out if you're nearby!
Pursell Farms in Sylacauga, Alabama
Described as luxurious and top notch by reviewers, this farm includes gold, spa, fine dining, and exciting activities! For this Valentine's Day, they're offering a "Valentine's Weekend at the Farm" starting at $299 per room per night. Their resort has options like deep tissue massage, wellness body wraps, and signature body scrubs.
This get-out-of-town package includes, of course, a beautiful guest room at The Inn at Pursell Farms, a special Valentine's welcome amenity, $50 resort credit, complimentary craft cocktails and canapйs at the Old Tom's Pub, and late checkout for Sunday! With all this, it's definitely worth considering a trip to make this Valentine's extra special.
Appleton Farms in Ipswich, Massachusetts
If you and your partner desire something more activity-centered rather than dinner and relaxation, Appleton Farms' "Farm-to-Kitchen Cooking Class: Valentine's Day on the Farm" might be for y'all! You can bond and create a wonderful memory by preparing an easy, traditional recipe.
This hands-on cooking class teaches you how to use the produce and products of local farmers and artisans. You can cook with Chef Addy on Friday to create a kale salad, French beef stew, and chocolate crиme brulee. Or, you can visit on Saturday with Chef Liz to create a puff pastry tart, pork loin, and chocolate raspberry truffles!
Becker Farms in Gasport, New York
A fifth generation owned family farm, Becker Farms aims to provide families a chance to visit the countryside and embrace the simple things. For Valentine's Day, they have a "Date Night!" This is definitely one of the most affordable on the list at only $60 for a dinner for two.
This deal includes live piano music by Rob Robinson to set the warm, romantic mood. You'll receive two glasses of wine from their vineyard, a salad, entree (herb crusted roast chicken or apple cranberry pork roulade), and dessert! They also have vegetarian options for the entree and dessert.
Spring Haven Farm in Chapel Hill, North Carolina
For animal lovers, the most romantic Valentine's would be one that includes adorable baby animals! And why not baby goats? This farm is hosting three "Valentine's Day with Baby Goats!" this February. In addition to the goats, you'll also get to meet two baby Highlander cows, a pig, a donkey, as well as feed the horses.
The farm supplies plenty of areas for beautiful romantic photos. You'll also be served snacks, hot cocoa, and other beverages. Tickets are only $13.50, which includes a Hay Ride, games and other fun. Check it out!
The Ranch at Rock Creek in Philipsburg, Montana
First on the list without a special Valentine's promotion, The Ranch at Rock Creek appears because of its perfect V-Day retreat appeal. You could go for just a day, but this place offers over 20 guided outdoor activities across 6,600 acres of beautiful scenery like meadows, forests, mountains, and more. It's on Forbes Travel Guide for a reason!
Instead of a Valentine's promotion, they have a Romantic Winter Getaway package. You may surprise your partner on Valentine's with a booking! This includes Granite spa treatments, privately guided outdoor winter adventure, and a private Relais & Chвteaux kitchen tour and wine tasting. For more details, check out the link!
The Farm at South Mountain in Phoenix, Arizona
Known as one of the most romantic spots in Phoenix, this farm is hosting "Sweetheart Picnic" for Valentine's Day! This three hour event occurs between Feb. 9th to Feb. 17th, and all you need is a blanket and your Valentine.
Included is a "Sweetheart" picnic basket with gourmet sandwiches, fresh farm sides, water, a Cupid's Cupcake, and a special gift. For an additional purchase, you and your special someone can enjoy wine, beer, or mimosas. You can enjoy them on your picnic, as you play a yard game, roam the garden, or visit the chicken coop! Vegetarian and gluten free options are available, too.
---