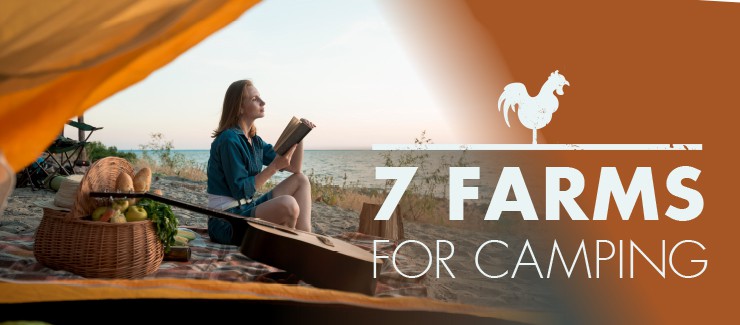 People who've visited or lived on a farm know how beautiful and relaxing it can be… or even adventurous! During camping season, why not add a bit extra to the experience and stay on a farm? You could sit back and enjoy the sounds of the animals, the sweetness of the air, or the colorful pastures and activities, or you could add some activity to your roster and collect eggs or garden!
Wolfe's Neck Farm is tucked away in Freeport, Maine. Admirably, their main goal is education: they want to transform relationships between farming and food for a healthier planet.They believe the best way forward for the planet is for everyone to better understand our food systems, from land management to animal care.
You can camp on-site by the ocean and participate in numerous activities. For example, they're hosting their 23rd annual Harvest Dance, where local food, local food trucks, and local brews will meet. Every Tuesday and Thursday, they have a new exploratory adventure: you could try making ice cream, heading out along the coast, or biking around the farm for a tour. They have a Farm Store on the property with organic produce, pasture-raised meats, and loads of other local products. The Farm Cafe serves up tasty retreats from the campfire meals like Maine lobster rolls and ice cream—all made with farm-grown ingredients, of course!
Also in the Northeast, this non-profit farm is a camping Bed & Breakfast that offers numerous classes on sustainable living and small-scale organic farming. Their goal is to be a role model of healthy living! You can either camp or share a communal living space. Either way, be sure to participate in their educational activities aimed at improving both the community and your own life.
Every Saturday night they have an informal fine dining farm-to-table experience; you only need to reserve 24 hours in advance, and they can accommodate any dietary restrictions. Don't pass up on their breakfasts! In the dry camping season, there are mountain biking trails that you can tackle on your own or join a group. Keep an eye out on the schedule, as they offer a wide variety of skills, such as organic farming, forestry, landscaping, eco-friendly construction and cottage crafts, or how to work as a group to problem solve!
Nestled in the foothills of the Great Smokey Mountains of Tennessee, Blackberry Farm fuses outdoor adventure, wellness, and beauty for an all-out escape. Traverse the endless trails of the mountain and find tranquil areas of peace. You won't have to venture out if you decide you want to eat out, because they have two one-of-a-kind restaurants on site. Or simply stay at your campsite for the evening with s'mores and gaze at the beauty of the natural world.
Blackberry Farm wants you to soothe your body and stimulate your mind. They offer yoga with a certified instructor, workshops with a chef, healing sessions with a doctor, and music and mixology classes. There's floral design, hiking outings, and actual full-body workouts! The list goes on and on. If you choose a biking, hiking, or climbing excursion, a guide will be along for the ride to provide expert insight. If you need a break from the physical work, take a pottery class! Embrace nature and enhance your well-being by choosing your own path on this farm.
For a more directly interactive farm experience, Four Springs Farm in Vermont lets you shadow farmers. You help them with their morning chores and then get to pick organic vegetables in the afternoon. Their goal is to use the land well and responsibly to support a small community with fruits, vegetables, and herbs. They have a home bakery, catering service, and poultry productions. If you're interested in learning more about farming, they offer an education program as well as a Farm School Experience.
On this seventy acre farm, you can see the Green Mountains along the horizon and beautiful fields with springs and a stream. You can also venture out into the woods and explore the inviting atmosphere. Be sure to help out in the greenhouses, bakery, and at events to get a real taste of farm life. Or choose to just kick back, relax, and enjoy their nature and farming programs!
If you're up to camp even further away from home than usual, Waihuena Farm is in Hawaii! They operate a weekly, organically grown CSA Program, as their main desire is to create a space for health and wellness. To help accomplish this, they host permaculture and wellness classes. Additionally, you can volunteer or intern while there or even take some educational classes.
Camping at Waihuena provides an opportunity for yoga, meditation, and nutrition centered around their organic produce. The yoga is twice weekly, and mid-week is Wellness Wednesday, where you can volunteer. New events and produce are hosted every week at the farm. You could stay mauka (mountainside) or makai (oceanfront) and take one of their custom tours. Their tours provide hands-on learning experience, like discovering how the fruits and vegetables are grown, harvested, and distributed in the community. You can also learn things like crop rotation, natural pest and weed management, or composting.
You can camp or glamp at Mountain Horse Farm in the Finger Lakes region of New York! As you might infer from the name, this farm has both horses and mountains. Mountain Horse Farm openly invites you to see their horses and cows—called the Horse & Cow Experience—to make a connection under the supervision of a clinician. Beautiful, breathtaking, and relaxing, this farm offers a camping site sure to reboot your entire spirit.
They offer a doggie hotel, so you can take your favorite furry companion with you. You can choose to get closer to nature in one of the numerous, three-mile long hiking trails, or you can glamp it up by getting a massage or sit in the sauna. They offer yoga, juices, dancing, journaling, bodyworking, and so much more.
Last but not least, Fairhill Farm in Virginia boasts itself as "The Perfect Vacation Getaway." For this camping trip, you could turn it into a romantic weekend, a friend adventure, a family gathering, or a personal retreat. Comprised of two large farms in the foothills of the Blue Ridge Mountains in Central Virginia, this retreat is a place where you can enjoy the peace and solitude of nature while taking in the landscape of rolling hills and panoramic mountain views.
Enjoy guided trail rides or hikes, fresh free-range eggs, and your selection of red or white Virginia wine. There's also a private chef on site, gourmet food baskets, and a horse and buggy ride! Help out in the kitchen yourself with food provided by the farm, or take a break from the tent to take a dip in the private pool. If you want some more natural water, there's also pond and river fishing and birdwatching on the hiking trails. Whatever 'vacation' means to you, there's a good chance you can find it here.
---