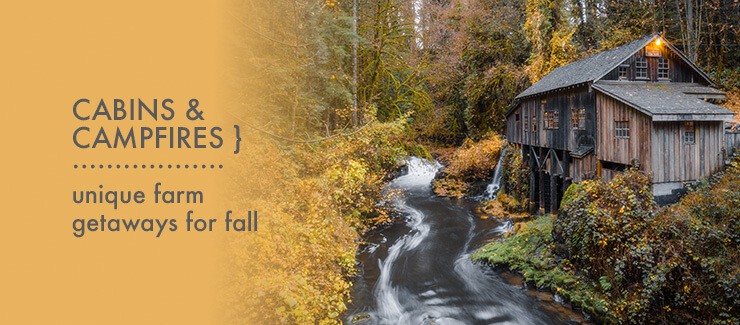 Fall is definitely one of the most popular times of the year to enjoy the great outdoors. The leaves are changing colors, the weather is cooling down, and life just seems to slow down a bit. So now that summer is winding down and Autumn is making its return soon, it's time to start planning your outdoor adventures! Imagine yourself immersed in nature at these five farms offering cabins and campsites that are perfect for your fall getaways. Visit out farm finder to discover more camping options near you!
Blackberry Farm | Tennessee
If primitive camping isn't your thing, this farm provides the perfect combination of luxury and farm living. Located in the foothills of the Great Smoky Mountains, its hard to beat this beauty! Touring the gardens, taking part in the farm activities, relaxing in the spa, and feasting on top notch cuisine are just a few of the things you will enjoy on Blackberry Farm. Choose from a variety of accommodations including suites, Hill Cottages, the Farmstead Cottage, and more. This famous farm has a variety of activities and events to keep you entertained while you enjoy the beauty of Tennessee.
(800) 557-8864 | Walland, Tennessee 37886
D Acres Permaculture Farm & Educational Homestead | New Hampshire
For those who are wanting to learn more about life off the grid and get their hands dirty on the farm, this is the place for you! D Acres is a nature-lovers paradise and their mission is, "...is to function as an educational center that researches, applies and teaches skills of sustainable living and small-scale organic farming." This organic farm offers a variety of unique accommodations including primitive tent campsites, treehouses, tiny houses, school buses, and indoor locations.
603-786-2366 | Dorchester, NH 03266
Fairhill Farm | Virginia
"Whether a romantic weekend getaway, a gathering of family and friends, an anniversary or a personal retreat, experience the luxury of unique vacation rental properties on two large farms in the foothills of the Blue Ridge mountains in Central Virginia, The Gateway to the Blue Ridge Mountains." There is no better way to describe what this farm has to offer, they really offer a lavish and beautiful farm experience for a romantic getaway or the whole family.
877-629-8396 | Stanardsville, VA
Lone Mountain Ranch | Montana
Originally established in 1915 as a cattle, horse, and hay cutting ranch, Lone Mountain Ranch currently operates as a cross country ski and guest ranch, serving up memorable experiences for visitors from all around the world! Lone Mountain Ranch truly has it all: beautiful cabins, outdoor adventures, dining options, and so many fun events. There are plenty of options available at this Big Sky destination - the Lone Mountain Ranch experience is truly one-of-a-kind!
Westgate River Ranch | Florida
Looking for a fun time in a prestige part of Florida with horse back riding and rodeos? This is the place for a little family farm in the sunshine state! This fun dude ranch boasts laid back vibes, fresh air, a variety of accommodations, and tons of fun activities! You'll love the Saturday Night Rodeo, line dancing, horseback riding, fishing, airboat rides and so much more. Choose from a variety of options for your stay including luxurious teepees, decked-out wagons, cottages, cabins, glamp-sites, or campsites – this fun ranch has it all!
863-692-1321 | River Ranch, FL
---