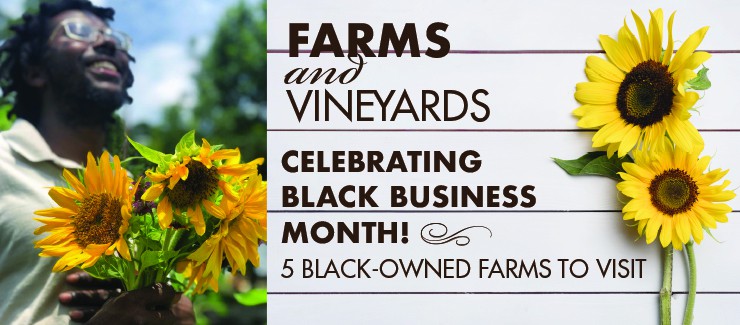 While there is no denying the painful history of slavery in agriculture, it is our mission to look forward and grow seeds of positive change in the ag world. So, in honor of Black Business Month this August, we are going to shine a light on these Black-Owned Farms in the United States. These farms are dedicated to creating a community built around growing food, while teaching others how to gain a physical and spiritual connection to the land. Now, let's celebrate these amazing folks!
As a family owned nursery and urban farm, Atlanta Harvest is committed to providing their customers with the best quality products. They only use organic materials; materials that has been given naturally to the earth and those who take part in the earth's cycle. The goal has always been simple; to grow and provide the city with high-quality, farm fresh produce while creating opportunities for economic development in distressed areas of the city. Visit this farm for a Gardening Workshop, made for beginners and experienced gardeners, to learn skills such as pruning and trellising, cover cropping soil supplementation, irrigation systems, spin farming, and more hands-on training! Now, this farm needs our help. Please visit their website to learn how you can help this farm relocate to a new location.
Located in Northern Durham, North Carolina, Grass Grazed Farm is the 60 acre farmstead of Derrick and Paige Jackson. They raise pastured livestock based on principles of sustainable agriculture on their farm and on additional leased acreage nearby. They believe in being good stewards of the land while providing their customers (and their own family) with healthy, wholesome, delicious meat. The Jackson's started the farm in 2019 when Derrick was looking for a career change from the U.S Army. They started with chickens haven't looked back since. There are some things that cannot be captured online. Whether you're a food enthusiast, a student, or a parent who is interested in knowing more about your food, they would like to personally invite you to visit the farm!
Their 10-acre teaching farm on the 40-acre eco-campus is located in the historic Black farming community of Pembroke Township, Illinois. The residents of Pembroke Township are stewards of the Kankakee Sands, one of the most prized ecosystems in Illinois and home to the endangered dwarfed black oaks. We are honored to carry forward this tradition of stewardship, which dates back to the people indigenous to this land, the Potawatomi. 100% of their energy comes from solar power (with a generator on cloudy days, for an interim time), and their water comes from a well. All buildings were built by the community, with a minimal carbon footprint. Their skill building and education programs encompass five key areas. Many programs span all five areas, as they are inherently interconnected: Sustainable Agriculture, Sustainable Building, Renewable Energy, Plant Medicine, and Simple Living.
The Harriet Tubman Freedom Farm is rooted in the values of nourishment, freedom, and reciprocity. Healing Black Southerners relationship to land in the South through agriculture and education, the farm is a space for community. The lives of plants, animals, and people matter here. Practicing reciprocity for the land and the community is their attempt to grow toward sovereignty. The Harriet Tubman Freedom Farm visions a just society where people have access to what they need to live as they see fit. A people who can feed themselves, are a people who can lead themselves. Visit their website to learn how you can purchase their fruits and vegetables, and educational programs!
Where to begin?! This isn't just a farm – it's a
movement!
Soul Fire Farm is committed to ending racism and injustice in the food system. They raise and distribute life-giving food as a means to end food apartheid. With deep reverence for the land and wisdom of their ancestors, they work to reclaim their collective right to belong to the earth and to have agency in the food system. They bring diverse communities together on their healing land to share skills on sustainable agriculture, natural building, spiritual activism, health, and environmental justice. They are training the next generation of activist-farmers and strengthening the movements for food sovereignty and community self-determination.
---